Tubing in Marquixanes
River descent on buoy
You want a fun outing et family refreshing ou With friends ? tubing is what you need! Unique in the Pyrenees-Orientales (66) and only 25 minutes from Perpignan, discover the tubing at the Outdoor Nature leisure park in Marquixanes.
Video descent of river in buoy by Exterior Nature
Tubing: a summer activity in white water!
Le tubing consists of go down a river on a large individual inflatable buoy. Using a double paddle, criss-cross the Têt river to attack small fast and. Slalom between the rocks, avoid obstacles and race to the finish! If you're more of the relaxing type, enjoy a nice water ride in a preserved natural setting. And as soon as you get too hot, enjoy it for yourself swim in the stream !
This is the ideal outing for enjoy nature and pass a friendly and fun time in family ou With friends. Escape the crowds and the heat of the beaches of Argelès-sur-Mer, Saint-Cyprien and Canet-en Roussillon. Come take a good bowl of freshness in a exceptional ! Slip on pure river water and enjoy the shadow of the leaves of the Outdoor Nature leisure park!
Tubing is a water activity without risk, suitable for everyone.
Want to know more about tubing, its origins and its variants? Check out our blog post !
Tubing by Exterior Nature in Marquixanes
Our outdoor recreation park is crossed by Tet river. Depending on the rainfall and the water level, the tubing route is dotted with areas of small rapids more or less hectic. A 100% natural experience Do not miss !
The tubing program:
15 minutes of equipment and briefing
+/- 1 hour of activity

About 4 to 5 whitewater runs

A multitude of small rapids to master

Games and variations to spice up your descents: 2 or 3-seater buoys, relays, tracks, etc.

Fun, sensations, laughter and beautiful

memories !
River tubing activity rates
These prices include:
Un briefing detailed security measures
La provision of equipment : buoy, paddle, shorty-type neoprene wetsuit, life jacket, helmet, loan of suitable footwear.
Tubing in Marquixanes (66): practical information
Open only in summer : from 1er July to August 31.
The tubing activity is offered every day in summer, from 11 a.m. to 18 p.m..
Come and practice river tubing in Marquixanes, in the Pyrénées-Orientales.
The activity is offered at outdoor leisure park Exterior Nature, to only:
25 minutes from Perpignan
40 minutes from Argelès-sur-Mer, Saint-Cyprien and Canet-en-Roussillon
5 minutes from Prades
Book your adventure in the great outdoors!
By phone 7 days a week
from 9AM to 20PM
Descent of the river in a buoy – Tubing: good to know
Tubing practice conditions:
For all audiences
From 1,50 m and/or 12 years old
Know how to swim and immerse yourself
Tubing river descent is a independent activity. With our formula, you rent the equipment and you are free to enjoy it as you wish!
Children are the responsibility of their parents. The safety instructions must be observed.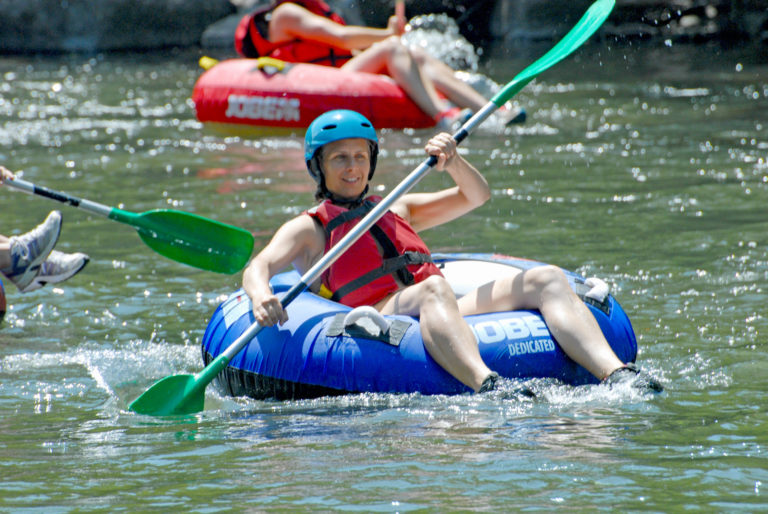 What do I need to plan for this activity?
A swimsuit
A towel
A pair of closed shoes, sneakers type (if you don't have any or if you have forgotten them, we will lend them to you)
The Outdoor Nature leisure center provides you with all the amenities you will need: toilets, lockers, free parking.
For families with children from 12 years old (or 1,50 m) wishing to discover an outdoor leisure activity, in white water.
For groups of friends looking for a refreshing activity to share in nature.
For players looking for a original team-building idea accessible to everyone.
For school or extra-curricular outings : schools, sports clubs, associations, communities, leisure centers, summer camps.​
*For ACM (Collective Reception of Minors) this activity can be offered to you under the supervision of a DE Eaux Vives, for an additional €7 per child.
Do you need additional information? Contact us! We will be happy to answer your questions.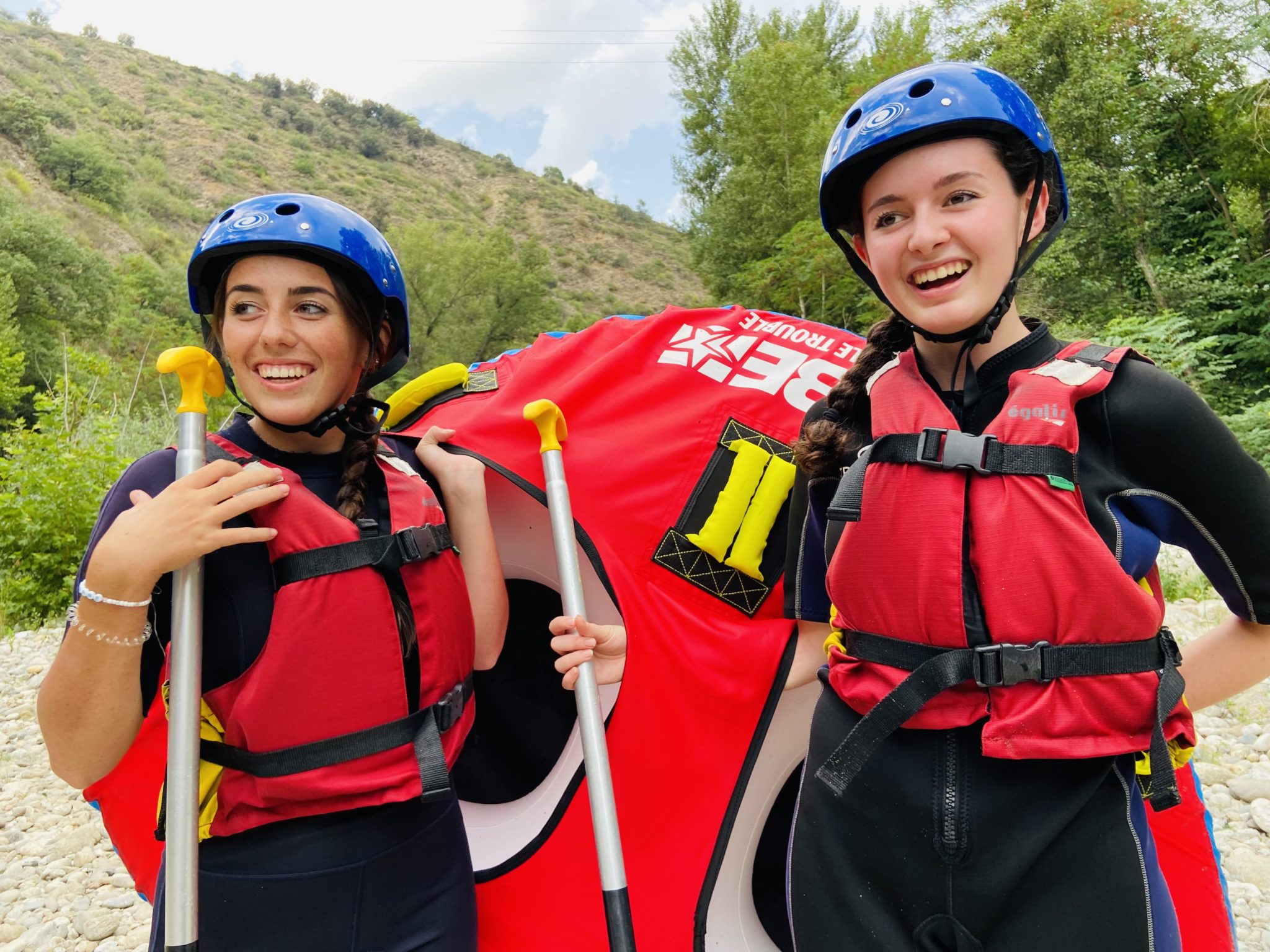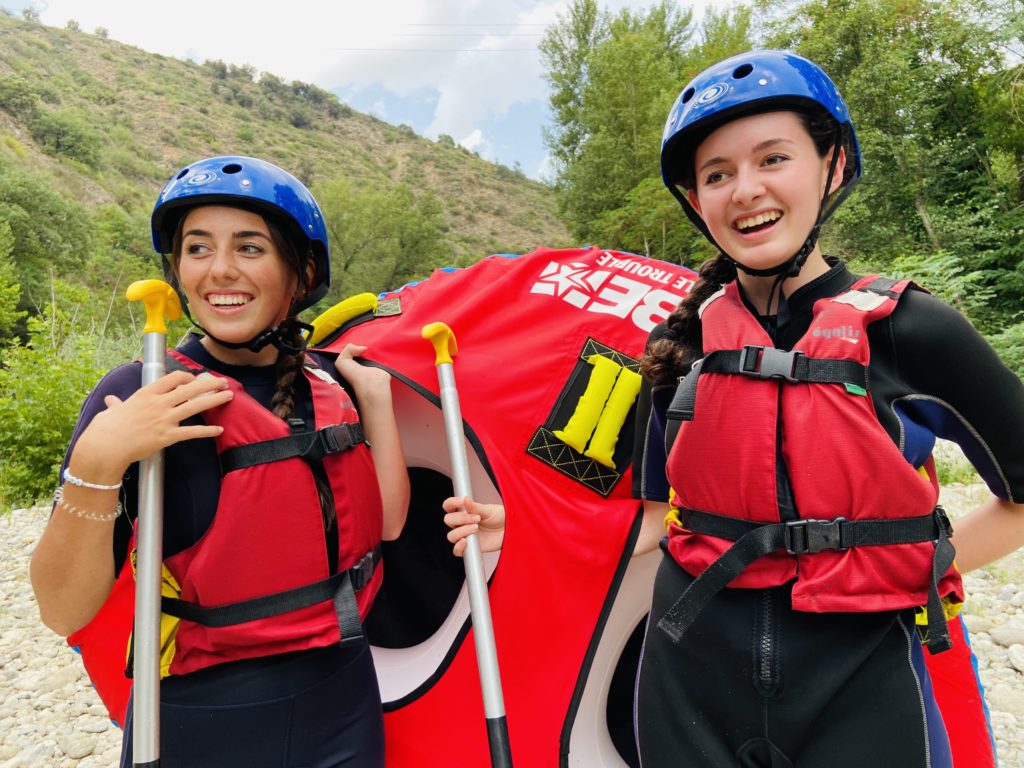 The advantages of the Outdoor Nature leisure park:
Spend a whole day surrounded by nature!
Try our Duo entry formula : Tree climbing (3 hrs) + Tubing (1 hr): €36.
Take a break at the restaurant in the park
If you have a little peckishness or a very big hunger, go to the Restaurant Le Caillou.
Take a seat on its shaded terrace and enjoy simple, gourmet cuisine, prepared with local and seasonal produce.
Settle down for a picnic by the water
Also enjoy a free picnic area along the river.
Facebook review: They liked the tubing and they say it!
Maite Karmau
about 2 years ago
The animators are super friendly and available. They explain very well. The games are great and the setting is great with the river. We come every time we stay with our family in Prades. We had a great morning yesterday. We will probably see each other again next year 😉
Discover all our outdoor activities in Marquixanes