Exterior Nature:
a history, values ​​and a cocktail of outdoor activities!
Our company brings together followers who share the same values : the passion for outdoor sports, thenature love and desire to pass them on to the greatest number. Discover our park and its many water, land and air activities, framed by professionals. Choose from tree climbing, canyoning, tubing, rafting, hydrospeed, via ferrata, rock climbing and Explor Games®.
Exterior Nature: a company based on strong values
Le fun, partage and transmission of values are the bases that we want to establish to offer you a unforgettable adventure in our Outdoor Nature park. Our leitmotif is to be in agreement with three essential aspects: the respect the environment and nature activities, friendliness and security.
To find out more about our welcome and our outdoor activities and leisure activities:
DISCOVER ALL OUR OUTDOOR ACTIVITIES AND LEISURE!
Our team, sparkling and passionate
The team we form is young, dynamic, friendly, smiling and attentive of your expectations. The company Exterior Nature would not have become what it is today without all the members, men and women, who worked there and who contributed to its development and its success.
In high season, we are approximately 35 people, fervent admirers of Mother Nature. Our ambition is to transmit our values, to share unique moments by making you discover the department of Pyrénées-Orientales and its wonders.
Our team consists first of all of Victor, the manager of the company, and his wife, Laure.
Victor is a lover of nature and insects, so it's no coincidence that you find mansions everywhere on the site for these little creatures. Moreover, for him "it's a duty, because in general, if you're afraid of insects, it's because you don't know them well"! Thus, its objective is to make us discover this beautiful ecosystem.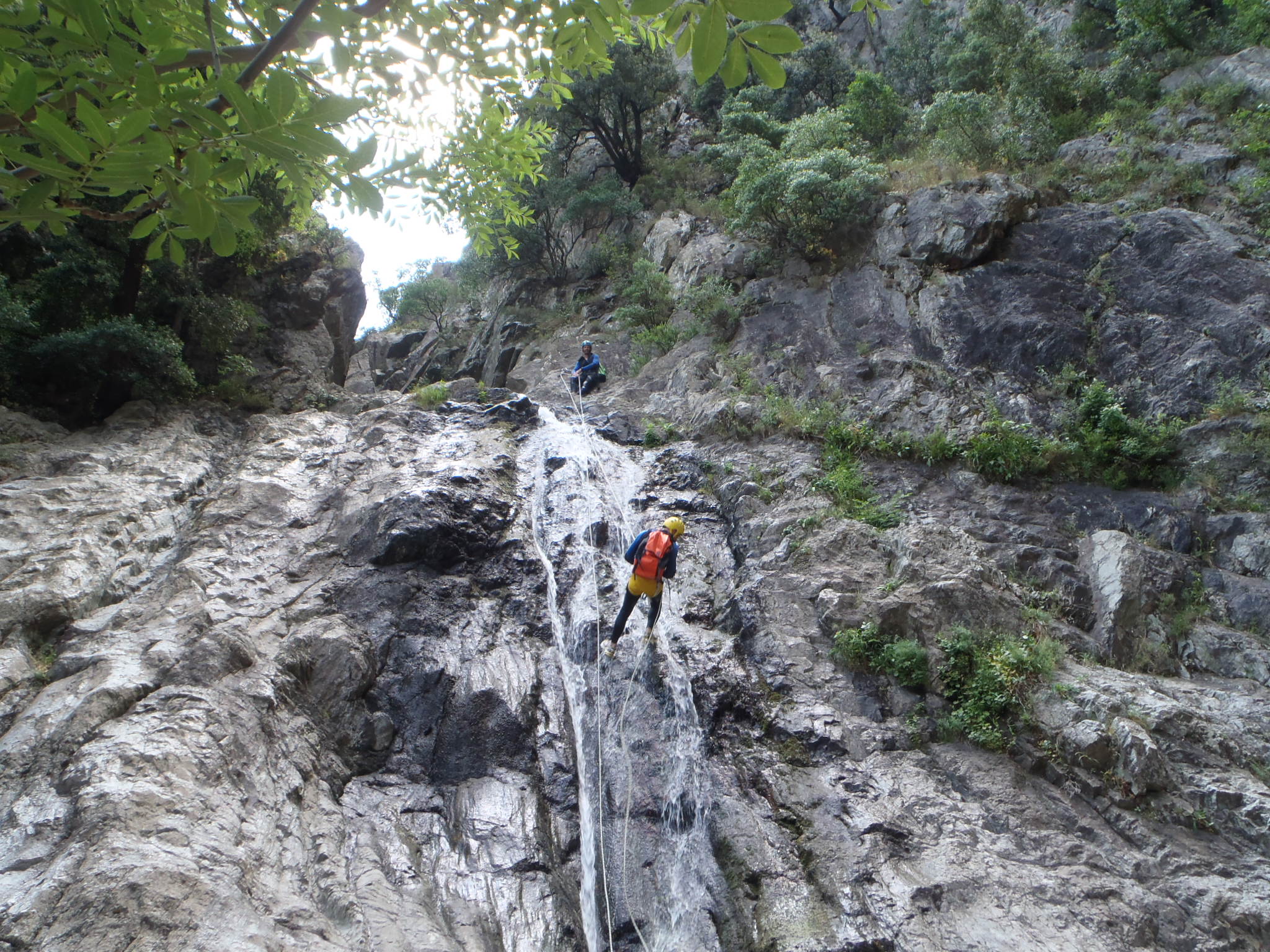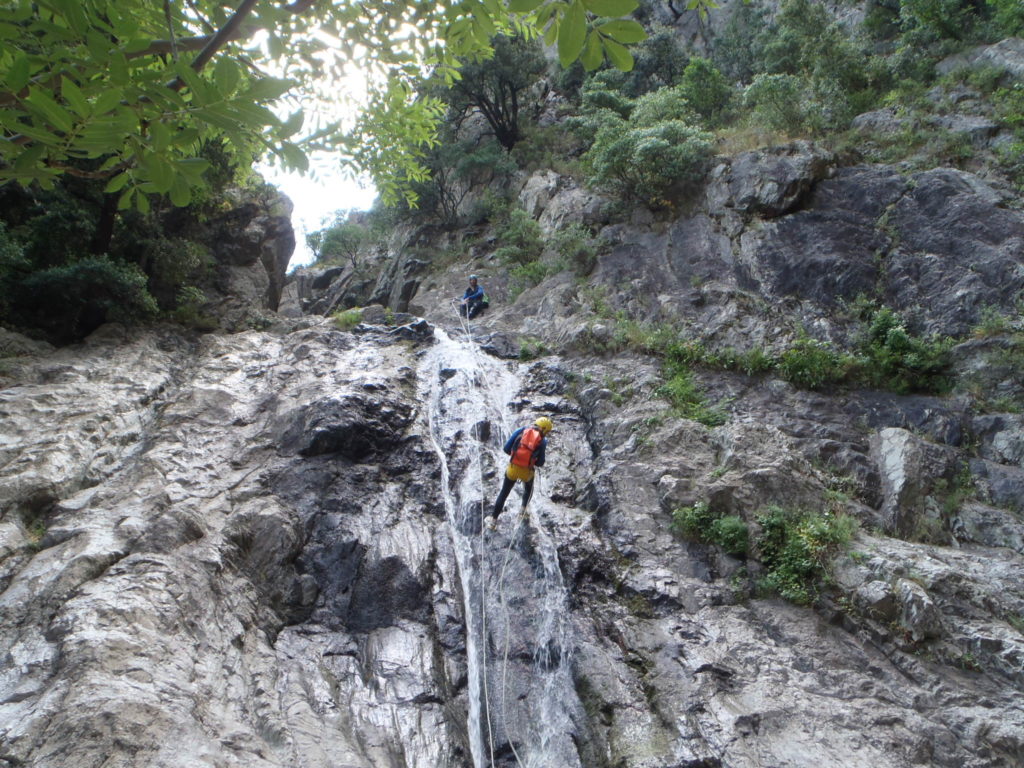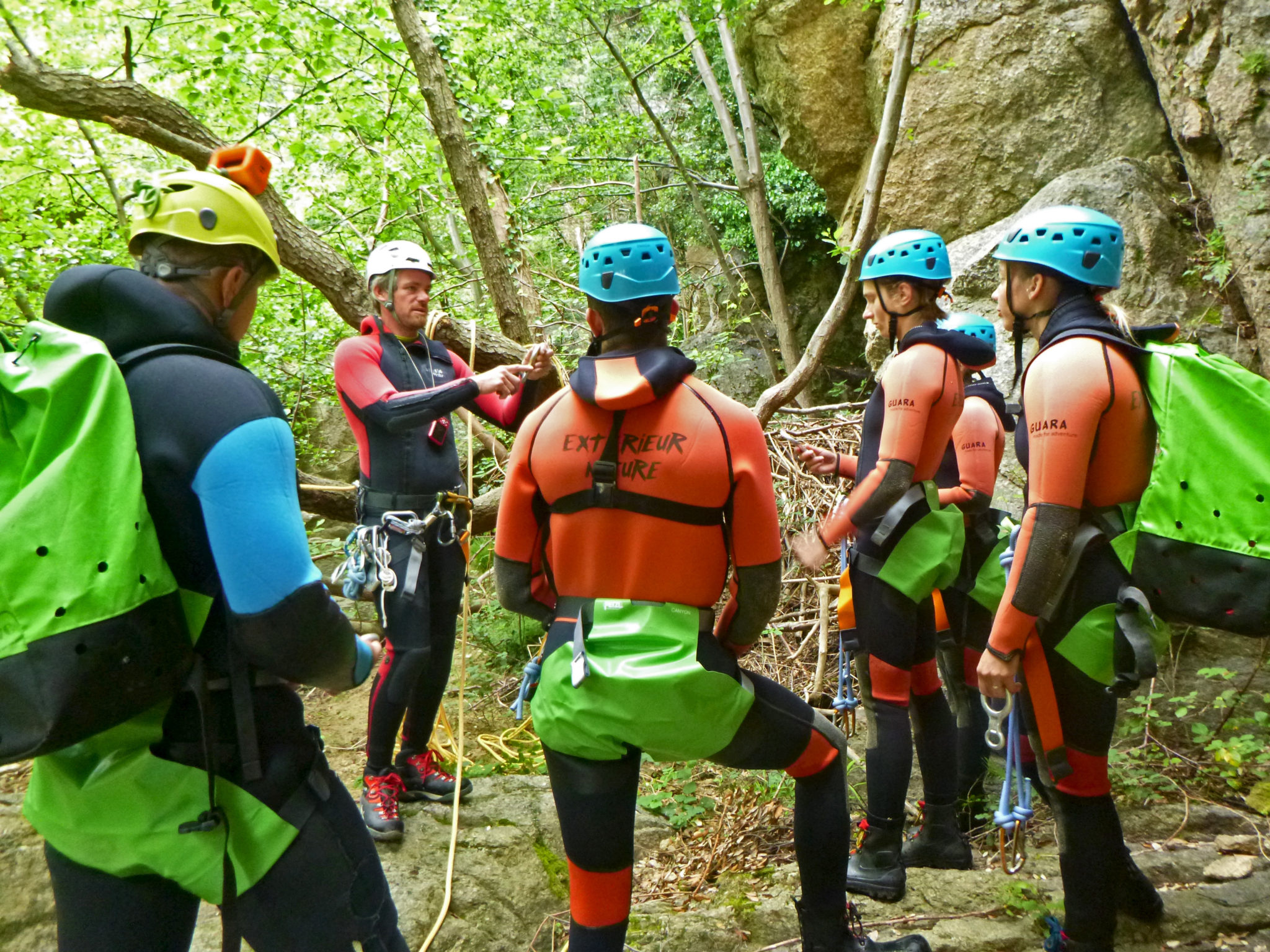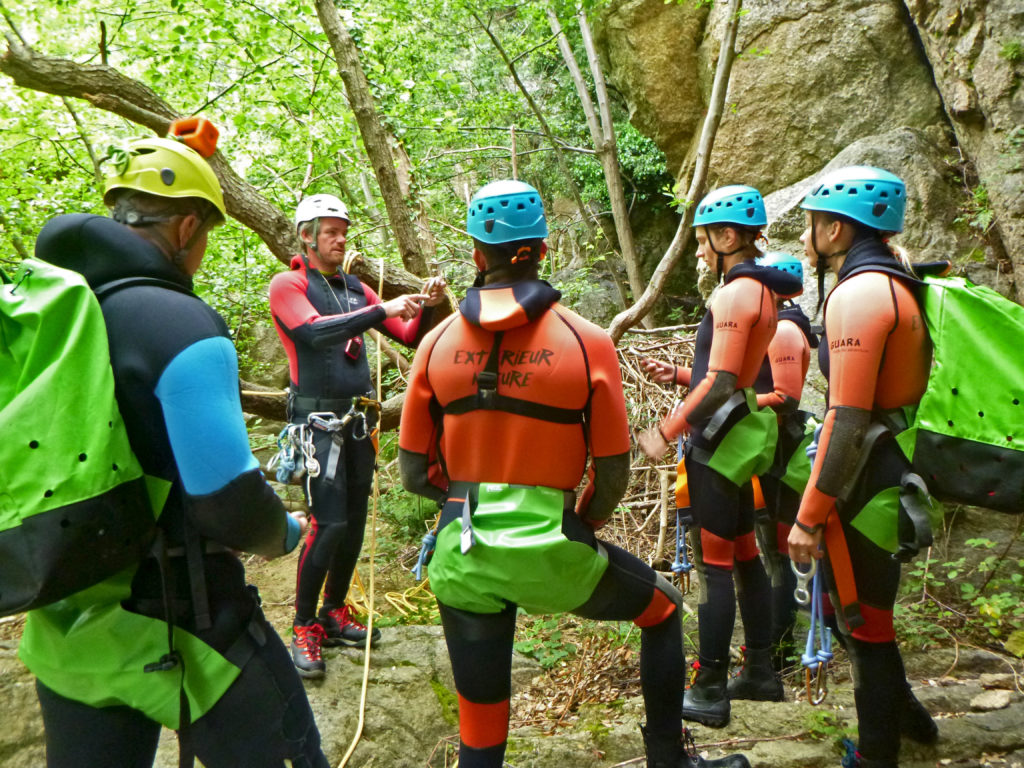 Professional guides and supervisors
Then, the other members group together state-certified professionals experienced and specialized in all disciplines:
Aquatics: canyoning, rafting, hydrospeed, tubing.
Aerial: tree climbing, climbing, via ferrata.
Land: orienteering and Explor Games®
All guides and attendants hold state diplomas and patents corresponding to each of the activities they oversee:
For canyoning : either State license for climbing, speleology or high mountain guide, or State diploma for canyoning (also called canyoning, in France). These are the only diplomas allowing to supervise canyoning professionally.
For via ferrata and climbing : State climbing certificate.
For tree climbing : State climbing certificate or CQP OPAH (Certificate of Professional Qualification Operator of Acrobatic Courses at Height).
For rafting and hydrospeed : State diploma or CKDA professional certificate (canoeing, kayaking and associated disciplines).
Besides the guides and operators, the fantastic reception team and at the edge of the water is present to make you spend a pleasant moment.
Not to mention the staff in the kitchen, at the service and at the bar of our guinguette restaurant Le Caillou who welcomes you with open arms. Come relax on the large panoramic terrace overlooking the park and the river.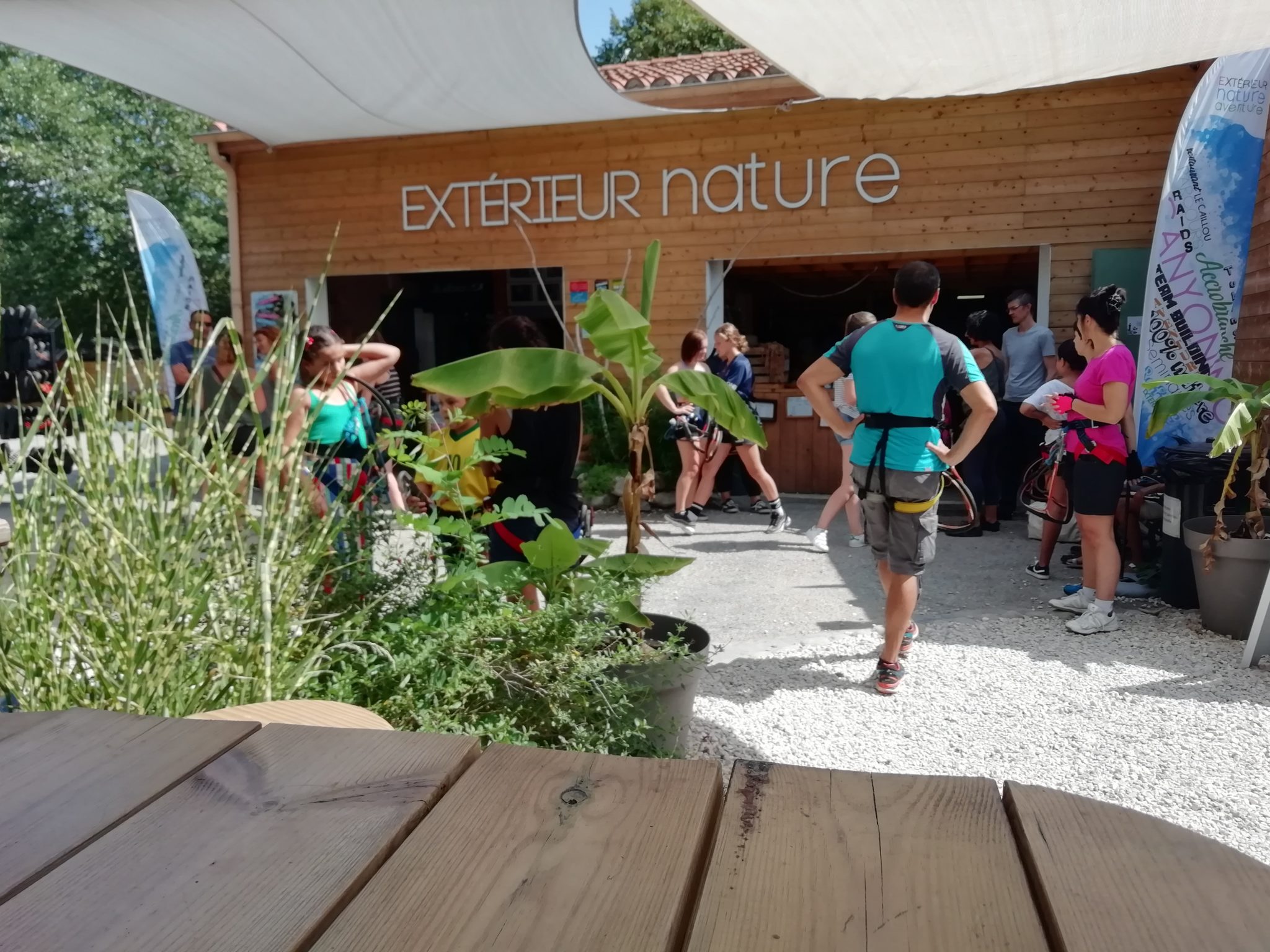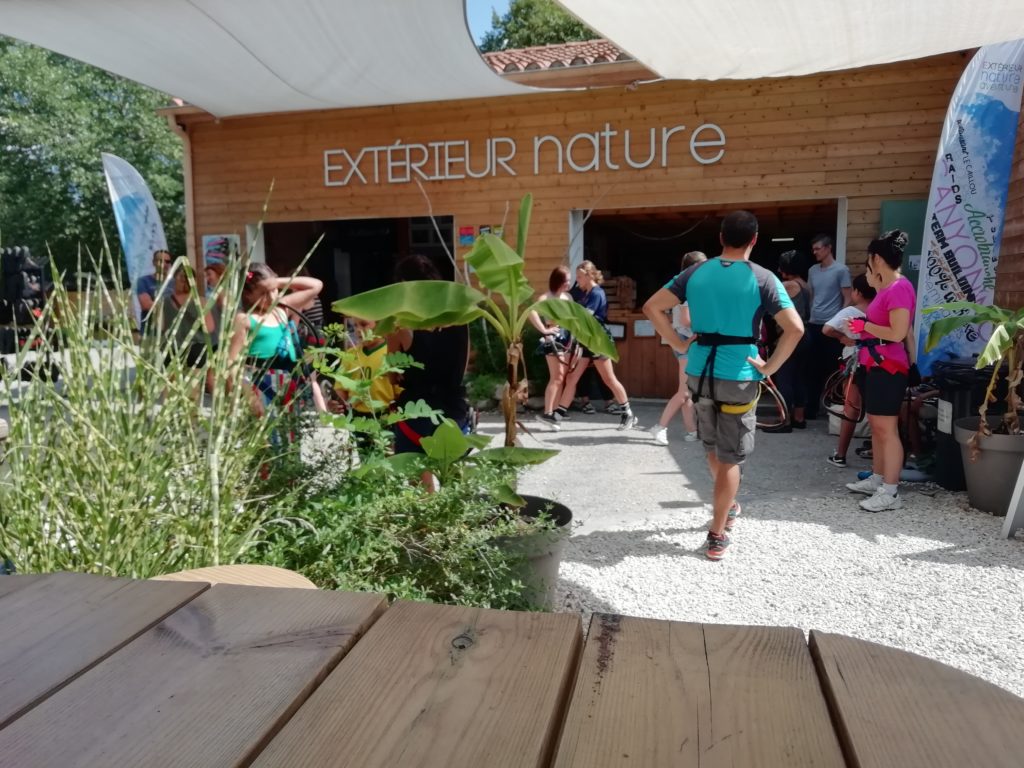 Book your adventure in the great outdoors!
By phone 7 days a week
from 9 h to 20 h
Exterior Nature: from its birth to the present day
The Outdoor Nature adventure was born in 2007. Victor, a canyoning enthusiast, decided to bring together the best canyon guides in the Pyrénées-Orientales to offer canyoning outings combining quality, user-friendliness and safety.
A fan of water sports, he quickly adds a tubing activity on the Têt river, in Marquixanes.
Then, over the years, the range of leisure activities at Extérieur Nature has expanded to climbing, via via ferrata, Rafting et the hydrospeed. Exterior Nature also develops corporate events such as team building and seminars, in France and abroad.
In 2017, Victor joined a magnificent adventure park and a cute little owl restaurant right next to the tubing, in Marquixanes. Always eager to offer a great diversity of outdoor activities, in 2020, he adds theExplorGames to create a large outdoor amusement park. The same year, the restaurant was baptized The rock and transforms into a pretty guinguette at the edge of the water.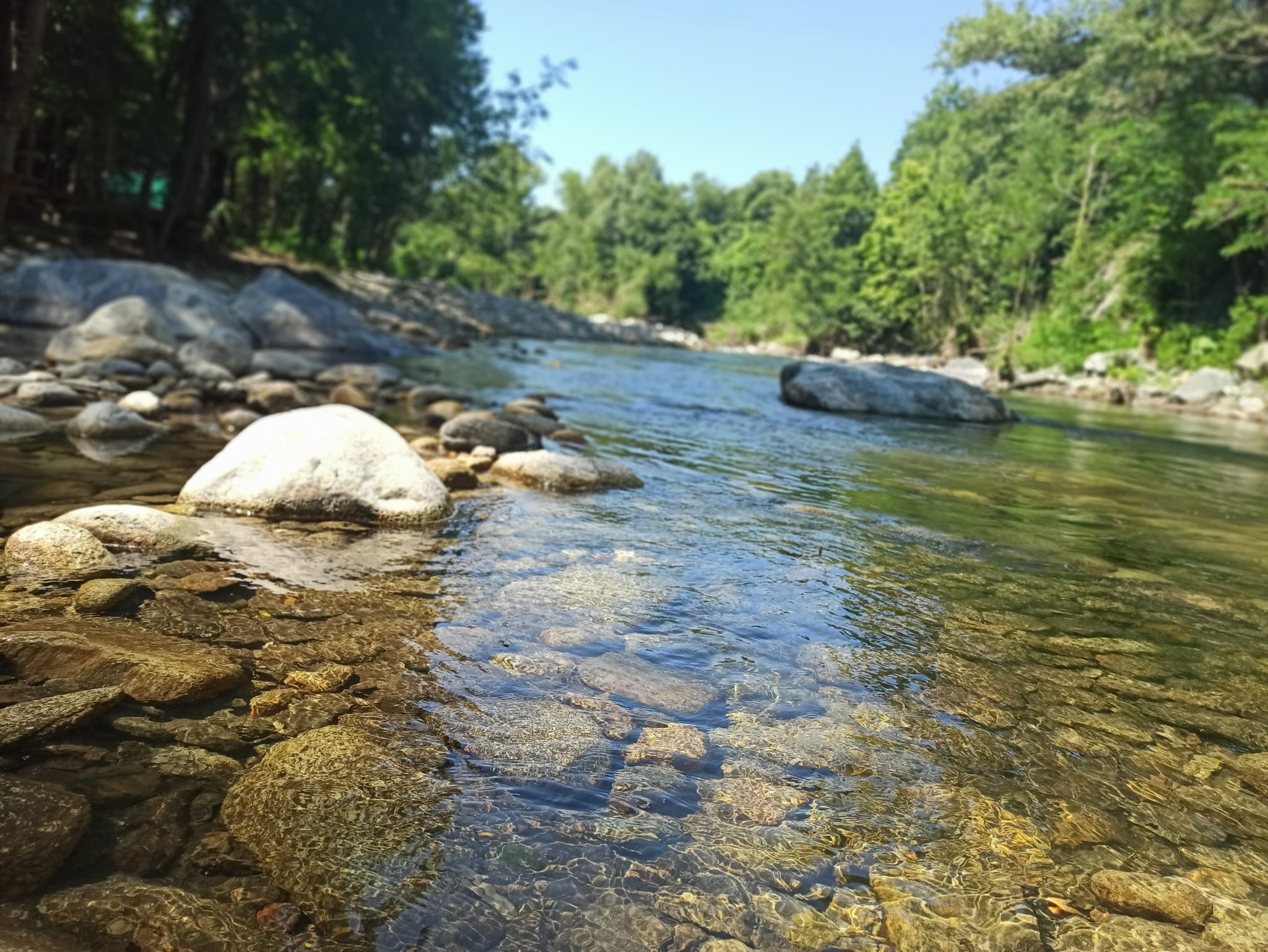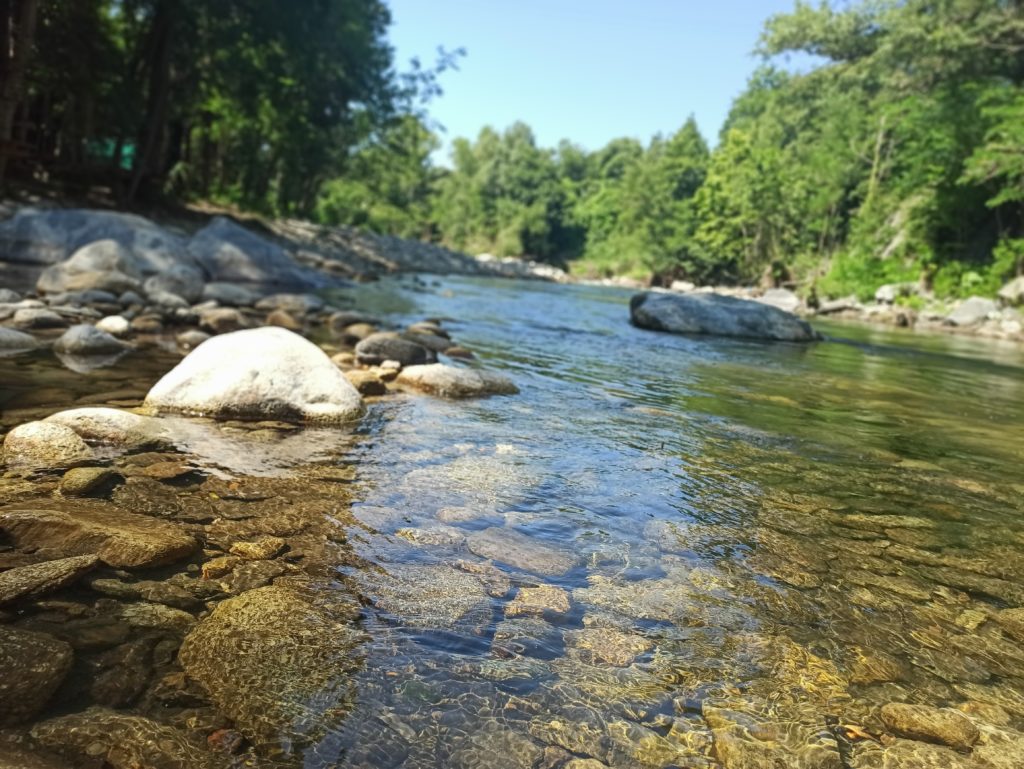 Today, Exterior Nature offers a whole cocktail of leisure and outdoor sports:
On-site activities in Marquixanes:
1/ theTree Climbing park with 12 adventure courses, including giant zip lines up to 160 m that can cross the river;
2/ le tubing, river descent on a large inflatable buoy;
3/ theExplorGames : outdoor treasure hunt and escape game.
Off-site activities in Pyrénées-Orientales (66) and Aude (11):
4/ le canyoning, Rafting and l'hydrospeed ;
5/ theclimbing and via via ferrata.
We also organize events Team Building and seminars incentives in our leisure park in Marquixanes, but also in France or abroad.
All our activities are also ideal for groups of friends, cousinades, sporty or not, the bachelor or bachelorette parties, children's birthday parties, etc.
Apart from the activities, we also offer comfortably furnished places of conviviality. OUR Restaurant Le Caillou offers you a moment of sweetness. Come and taste good homemade dishes with fresh, seasonal and local products.
However, if you prefer to relax or have lunch by the river, we have set up a picnic area with tables. Don't forget that you also have free lockers, changing rooms and parking.
Here you are all welcome : families with children, teenagers, young adults between friends and adults.
Our Outdoor Nature leisure park and our activities have been designed for your satisfaction, your entertainment, in a friendly atmosphere and with the strictest respect for the environment.
The whole team awaits you for a moment of pure sporting happiness!