For those over 1m, the entire park is accessible
For those over 1m40, the entire park is accessible, from green courses to black courses, there is something for everyone: from small families to challengers.

3 green courses:
Experience your first sensations at height on Introductory courses accessible from 1m20.
Ideal for family with your children from 6/7 years old: share a moment with your family. These routes are an introduction to the activity.
Green Route 1
↑ 3m high
Tibetan Bridges
​American Roll
Crossing on beam

Green Route 2
↑ 2m high
Climbing wall
Snake
giant mushrooms
Swing
Green Route 3
↑ 5m high
jungle tracks
cabin on stilts
Tibetan bridges
Zip lines up to 40 meters

​3 Blue Courses:
Did your first steps on the green course make you want more? Head to the blue course, take a little more height and cross the river on our zip lines.
An adventure to share with family or friends. Just like the green courses, the blue ones are suitable for adults and children from + 1m20.

Blue course 1
↑ 3m high
Tree house
giant spider web
Swing
Zip lines up to 40m

Blue course 2
↑ 6m high
Zip line over the 35 m river
25 m Tibetan bridge
Monkey bridge

Blue course 3
↑ 10m high
elastic board
Net rope bridge
2 zip lines of 40m


COVID 19 INFORMATION: In compliance with government recommendations, Exterior Nature Adventure takes all the necessary health measures to ensure the safety of visitors and staff.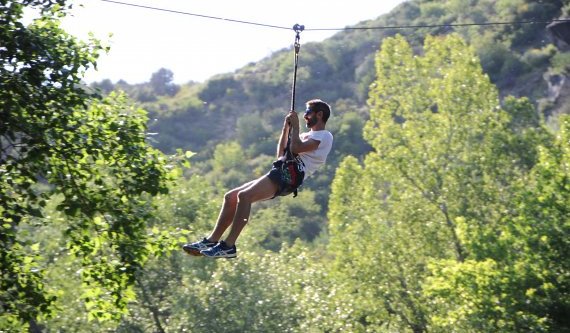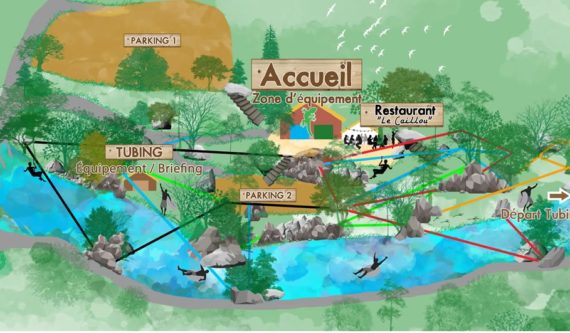 3 red courses:
Here the level thickens! At 10 m above the ground you will have to keep your cool to progress on these courses which require more balance and synchronization. Available from 1m40, the most skilful and daring can try to venture there.
Red Route 1
↑ 8m high
Ziplines up to 40m
giant waves
Suspended platform
Tarzan Leap
Slackline
Red Route 2
↑ 6m high
8m climbing net
hanging logs
Ziplines over the river up to 60m
​Red Route 3
↑ 5m high
The 30m Tyro-Wakeboard
Indiana Jones Giant Bridge
Zip line over the river
climbing net
The black course:
At 17 m from the ground, go beyond your limits on this course with the strength of your arms, by hoisting yourself on the suspended net and jumping into the void above the river on the giant zip line.
To compete with this course it will be necessary to exceed the 1m and 50kg, below this weight you will probably not reach the end of the long zip lines.
Black course
↑ 17m high
5 zip lines up to 160 m
no giants
Hanging nets
Giant slackline on the river
Want to prolong the pleasure?
We offer you to combine aerial sensations and navigation with the
DUO entry
.