THE CANYONS OF
PYRENEES-ORIENTAL (66)
Exterior Nature has selected for you the best spots de canyoning of Eastern Pyrenees. Located in the south of the region OccitaniaInter Prades, Perpignan et Argelès-sur-Mer, all our canyons offer an ememorable whitewater nature experience. For all levels, With friends ou in family, select the canyoning outing ideal!
All our canyoning outings in the Pyrenees-Orientales
Live the canyoning experience between Prades, Perpignan and Argeles-sur-Mer
Discovery Canyoning - Level I - 30 min from Perpignan:
Le canyon of Molitg-Les-Bains and galamus canyon in Saint-Paul-de-Fenouillet are around Prades.
They are ideal for learning about whitewater and mountain activities, from an early age. These descents are fun, progressive and accessible to everyone, including children.
Fancy an unusual adventure? Test it hot water canyon of Thuès ! An ideal outing to experience an unforgettable moment with family or friends!
From the age of 8.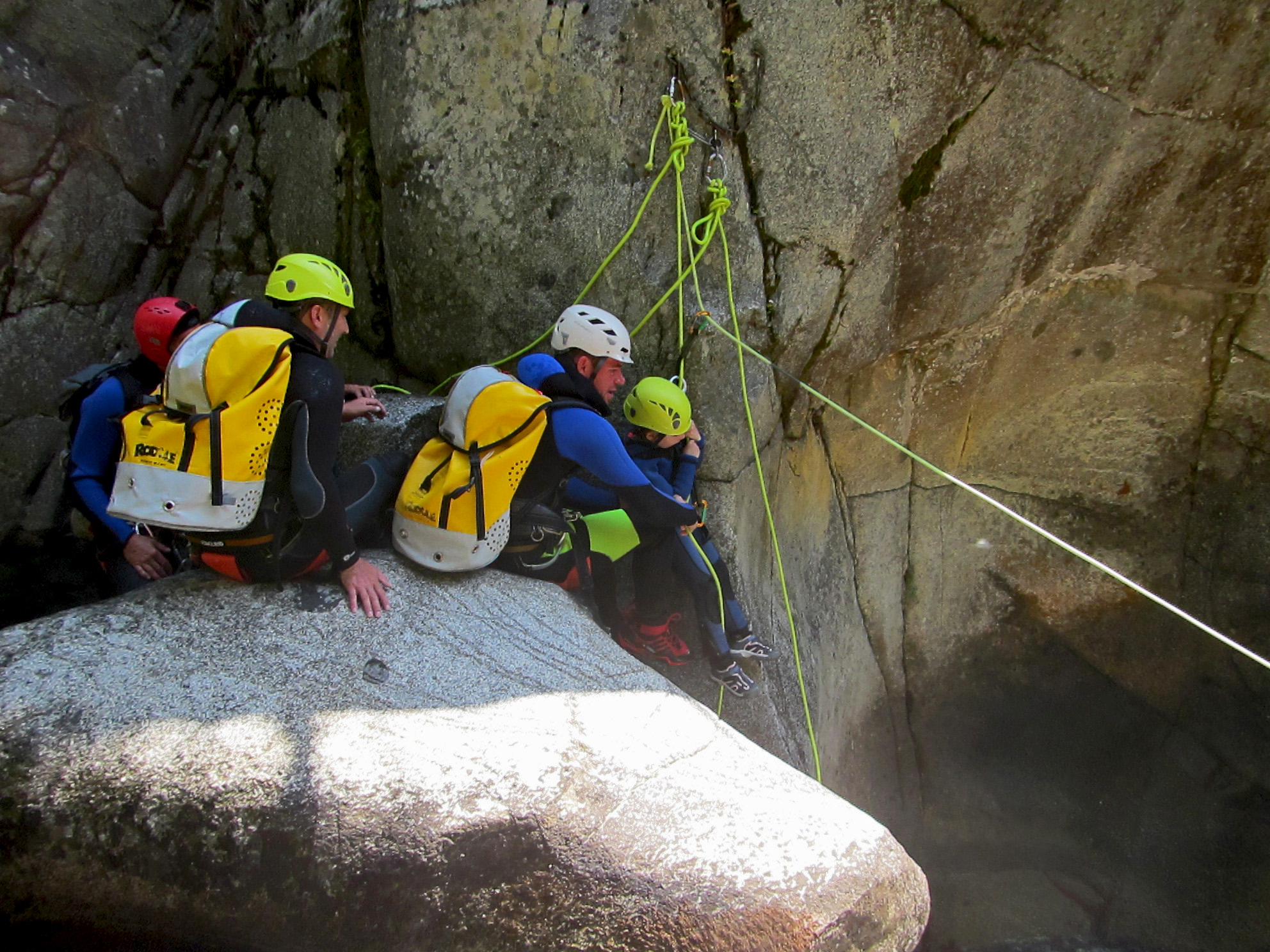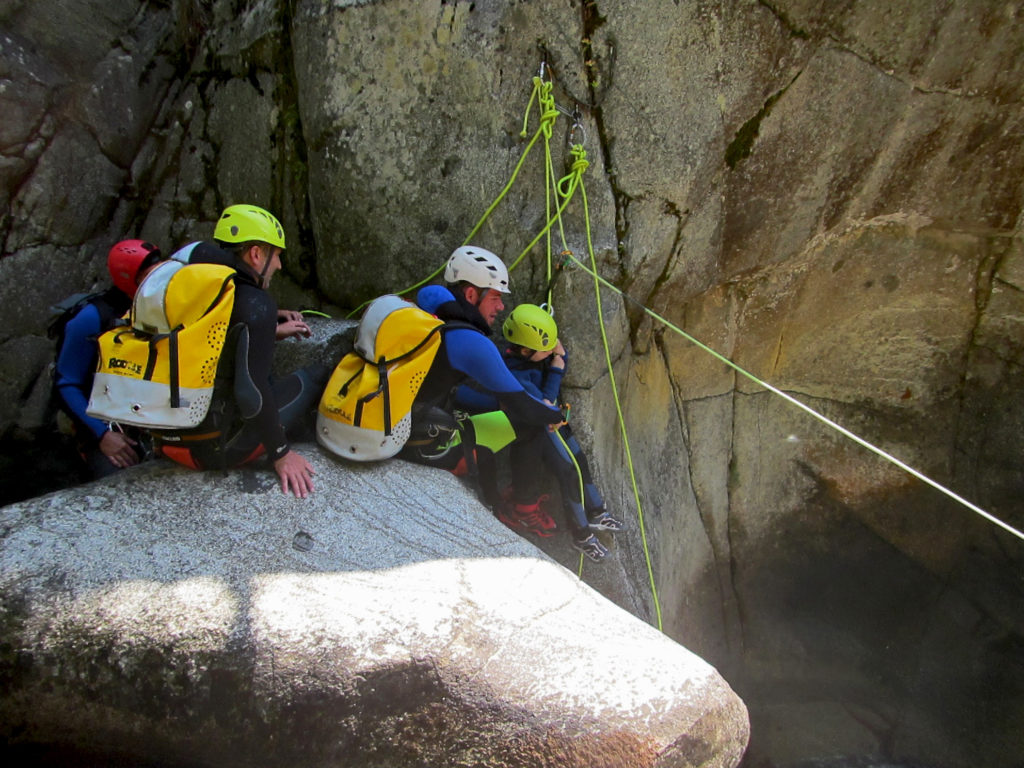 Find out more about our Canyoning Discovery Level I outings:
Canyoning Adventure - Level II - 30 min from Argeles-sur-Mer:
Located in the town of Céret, the Gourg des Anelles canyon et Baoussous Canyon offer a nice variety of obstacles.
However, they remain accessible to all, because the most difficult passages are optional.
Complete and fun, these canyoning outings are intended for amateur sportsmen. A great whitewater adventure!
From 12 years old
Find out more about our Canyoning Adventure Level II outings:
Canyoning Sensations Le Llech - Level III - Prades
Between the villages of Prades and Villefranche-de-Conflent, 30 minutes from Perpignan, is the famous canyon of Llech.
This very aquatic canyoning outing is tailor-made for athletes looking for thrills.
Le Llech canyon is one of the most famous in France and is renowned for the variety of its obstacles, all very playful.
From 16 years old
Find out more about the Canyoning Sensations Llech Level III outing: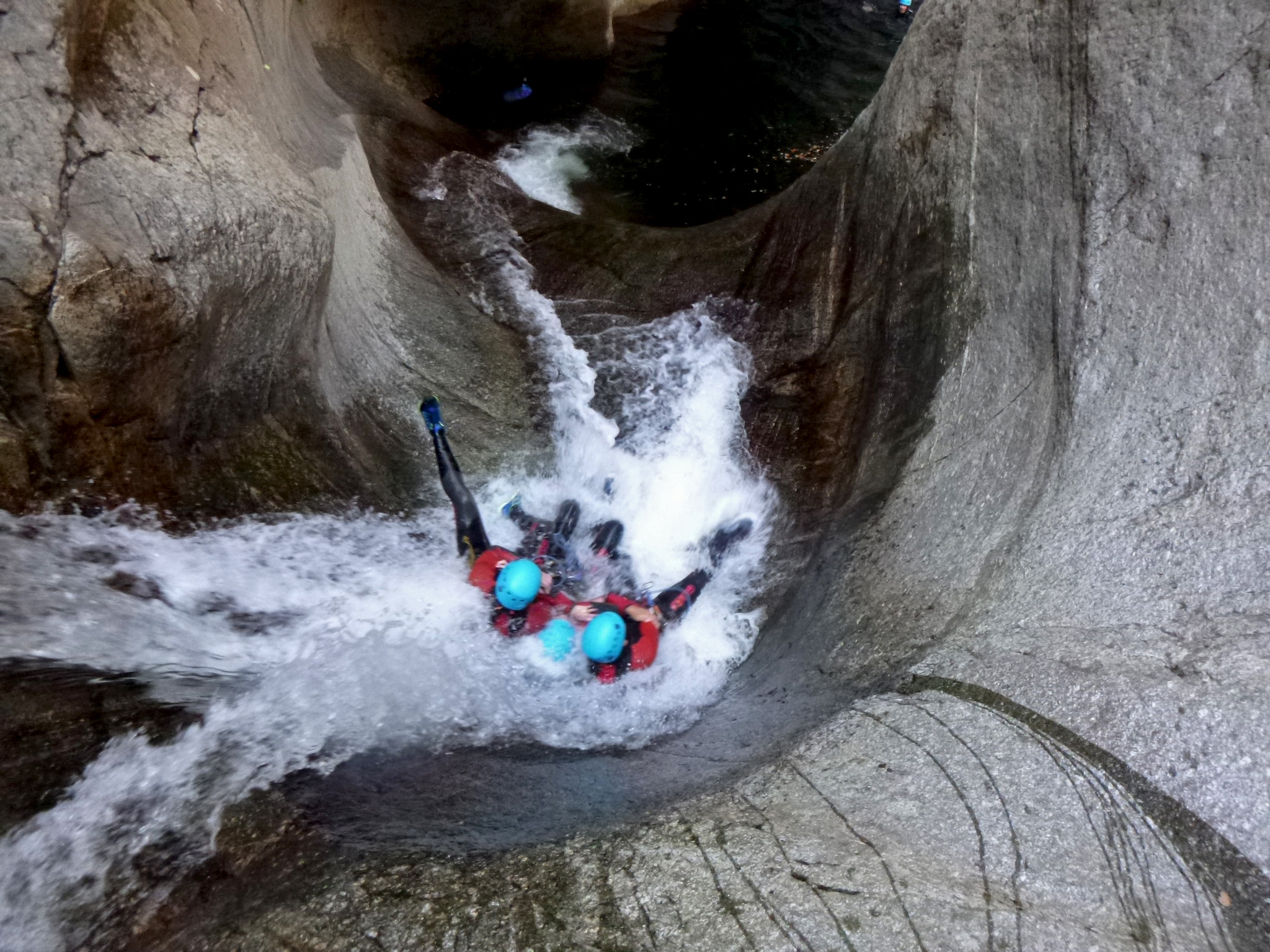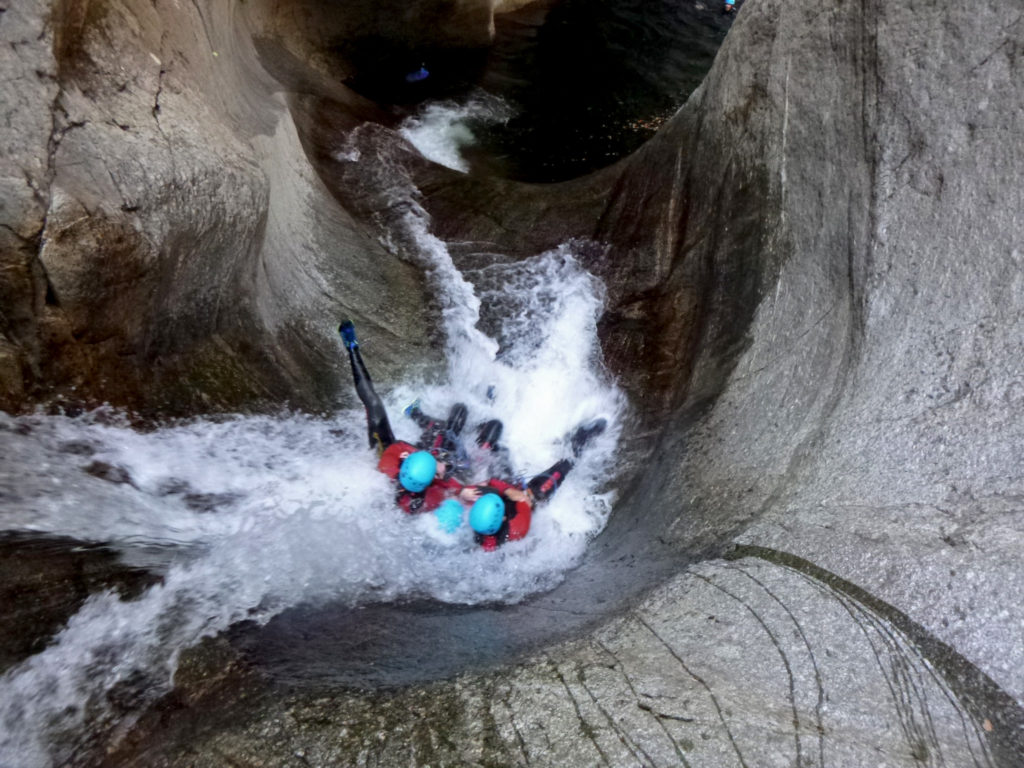 Small Day Sports Canyoning - Level III - Ceret
Located in the heart of Vallespir near Céret, the CAnyons Little Day du Mas Calsan and Salt Del Pi offer you a concentrate of sport, adventure and fun, for about 5 hours.
These wild and uncrowded canyons are intended for amateur or experienced sportsmen, wishing to spend a unique experience immersed in nature.
From 14 years.
Find out more about our Canyoning Small Day Level III outings: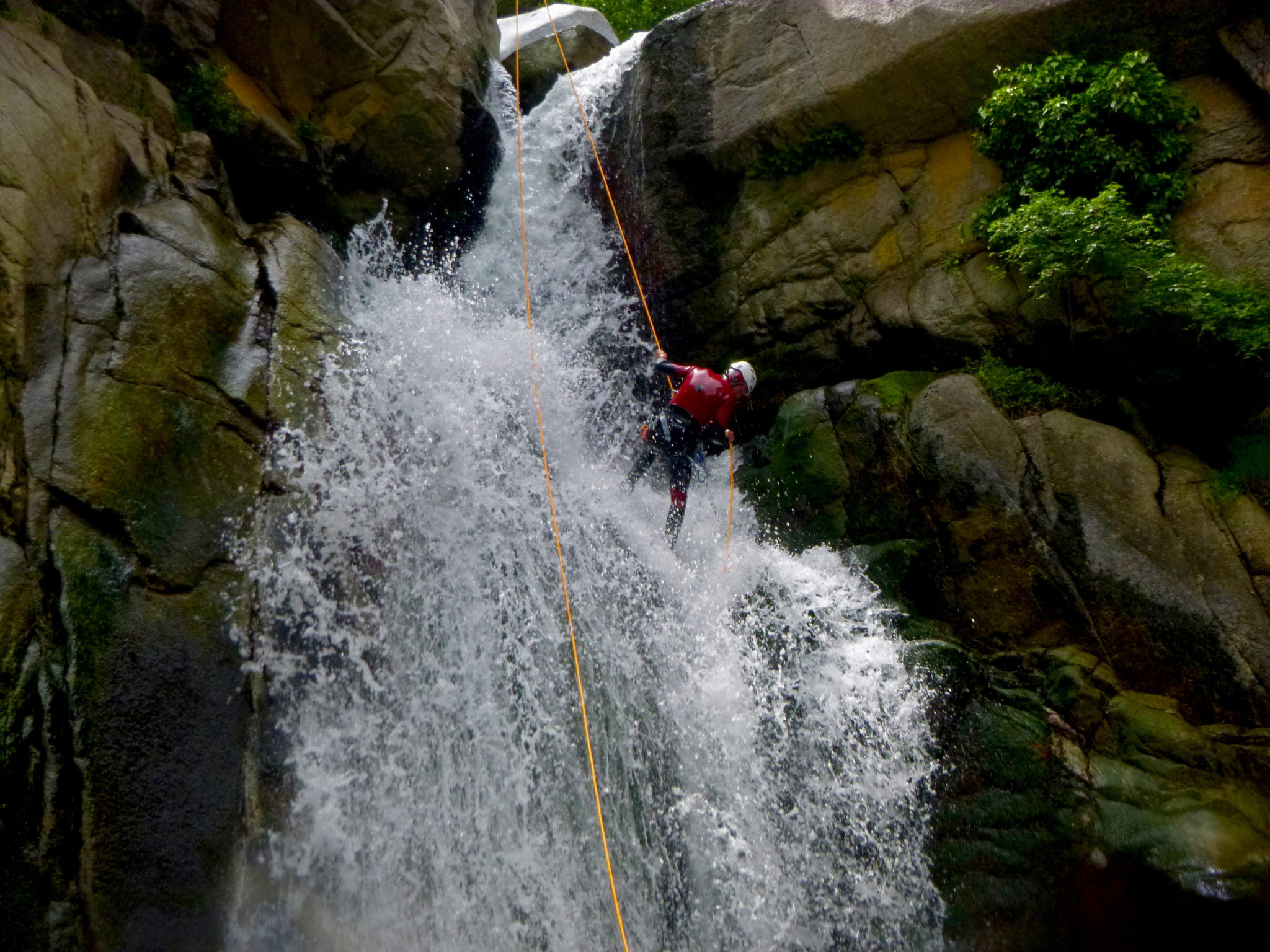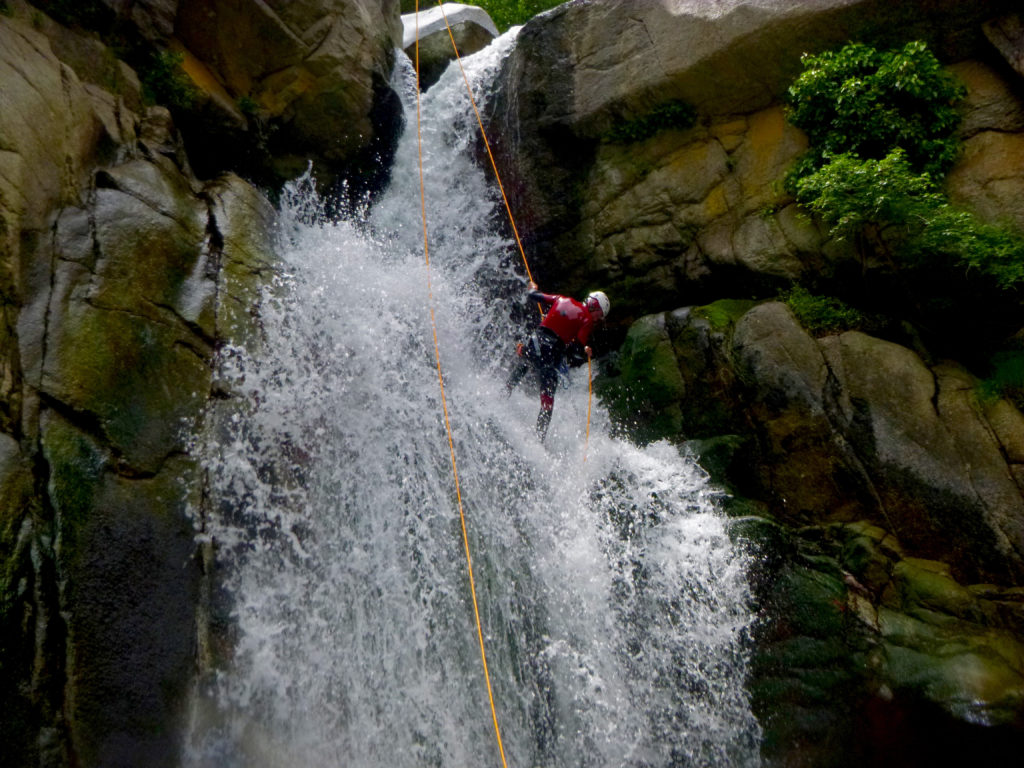 Long Day Expert Canyoning - Level IV
For the more experienced, go for a whole day in one of the most demanding canyons of the Pyrénées-Orientales: the taurinya canyon or Cady Canyon.
Adventure, adrenaline rushes and thrills guaranteed!
From 16 years.
Find out more about our Grand Day Level IV Canyoning outings: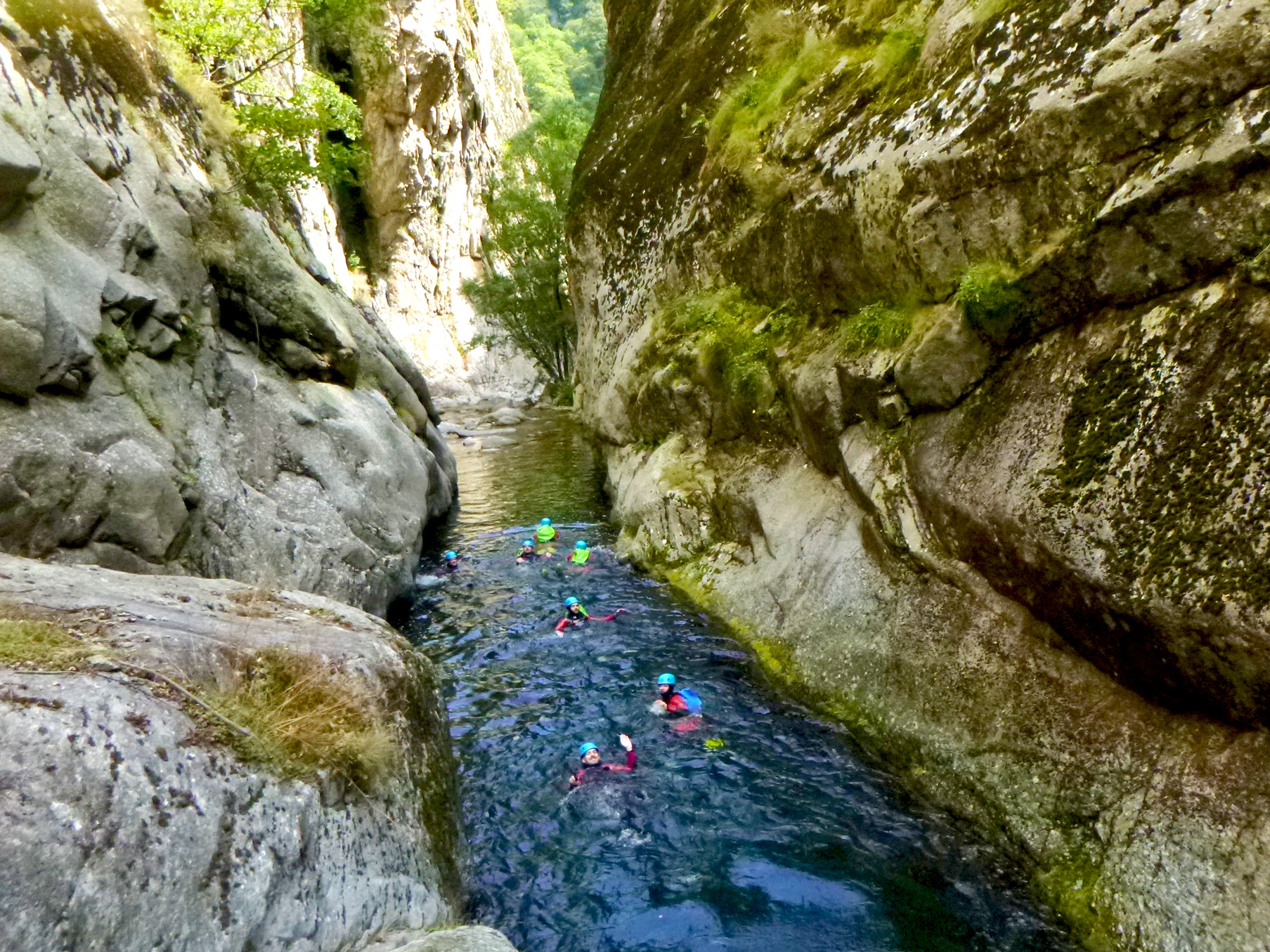 For more information and to receive all our advice on choosing the canyoning outing that suits you and suits you best:
All about Canyoning in Les Pyrenees-OrientaLes
Discover the canyoning in French Catalonia, an immersive experience in wilderness. Playful and exotic, our canyons are suitable for all levels. That you are in family ou With friends, enjoy an unusual aquatic activity!
Pyrenees-Orientales (66) are full of canyons among the finest in Europe. Let yourself be seduced by the sumptuous natural pools, the slips on slides carved out of the rock and the abseiling. The canyons of the Catalan country, at the foot of the Canigou massif, offer exceptional landscapes less than an hour from Perpignan, Argelès-sur-Mer, Saint-Cyprien, Canet-en-Roussillon and Barcarès.
As a bonus : practice this aquatic activity even in winter, thanks to the hot water canyoning, unique in Europe! the Canyon of Thues is the winter canyon not to be missed.
Treasures of nature, the canyons are narrow and deep gorges dug over time by a watercourse. This long period of river erosion on mineral or organic rocks has given rise to breathtaking landscapes, which can be explored through canyoning.
Canyoning or canyoning is an outdoor sport that consists of descending into gorges and venturing along a river. This whitewater activity combines techniques from hiking, caving and climbing.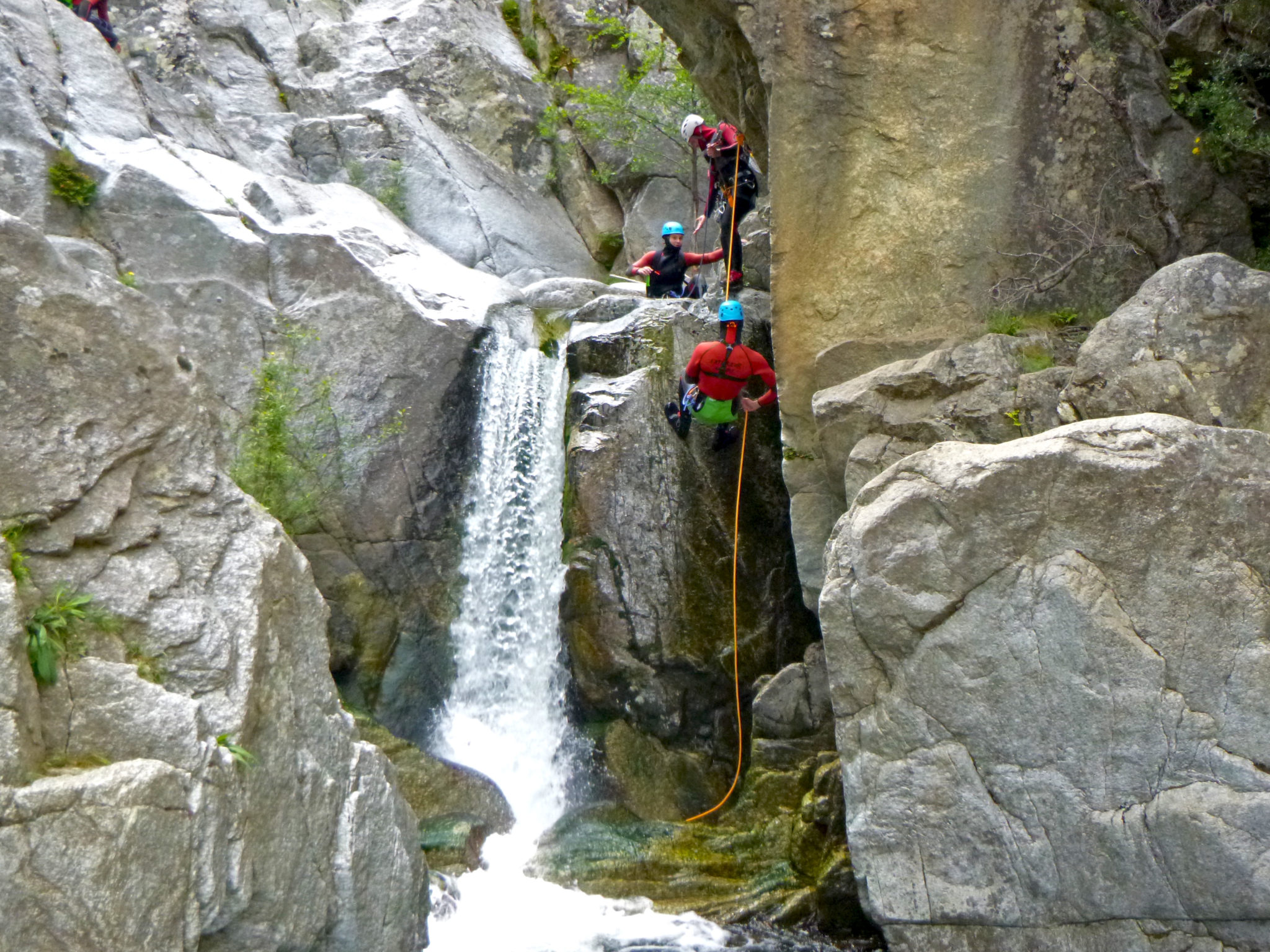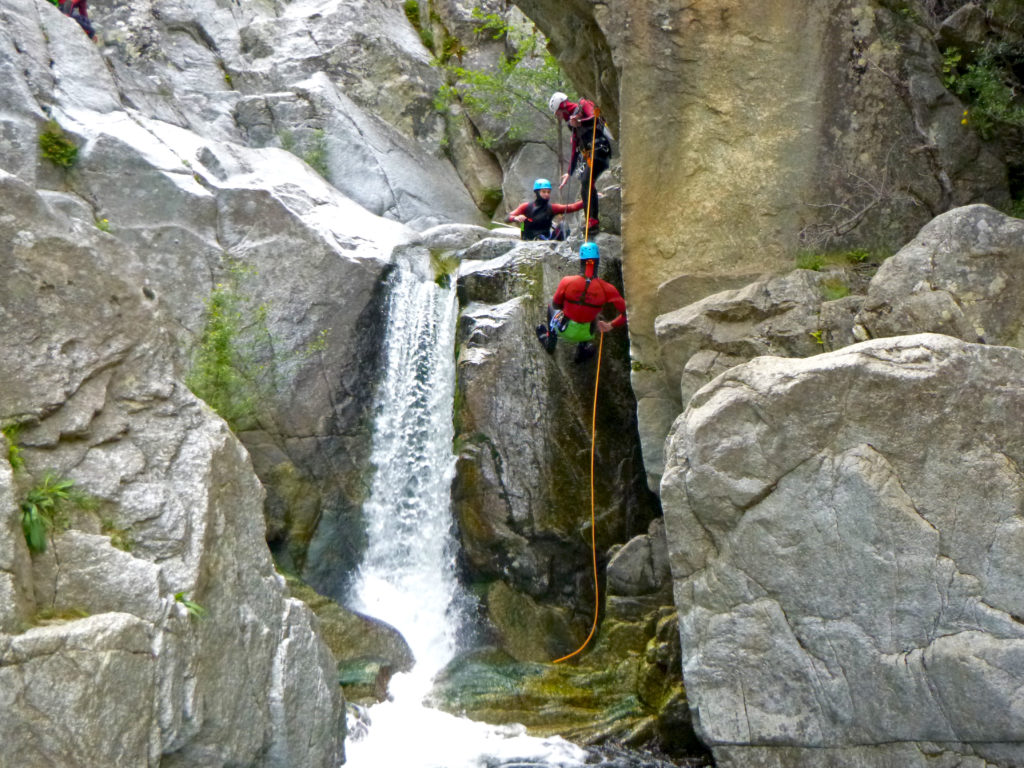 what are the components of a canyoning outing?
Approach walk and return walk:
What makes the beauty of the canyons is that they are surrounded by nature! Steps are therefore inevitable to get in and out. The duration and degree of difficulty of the walks vary according to the canyons. Think about it when making your choice of outing!
Abseiling:
Assured by a rope and a harness, abseil down along the walls and waterfalls! Beautiful sensations closer to nature.
Natural slides:
Let yourself slide on smooth and curved planes dug over the years by the river, to land in natural basins. What fun in perspective!
Jumps:
Rest assured, they are optional on all our outings in the canyons of the Pyrénées-Orientales. But if you are tempted by an adrenaline rush, take the plunge!
Swimming:
To cool off, there's nothing like a short swim in a natural pool, between two slides or abseiling. You will appreciate the purity and clarity of the water in the canyons!
Walking :
To get from a toboggan to an abseiling, you sometimes have to walk a little on the rocks. It is therefore important to provide sneakers suitable for walking (more details below).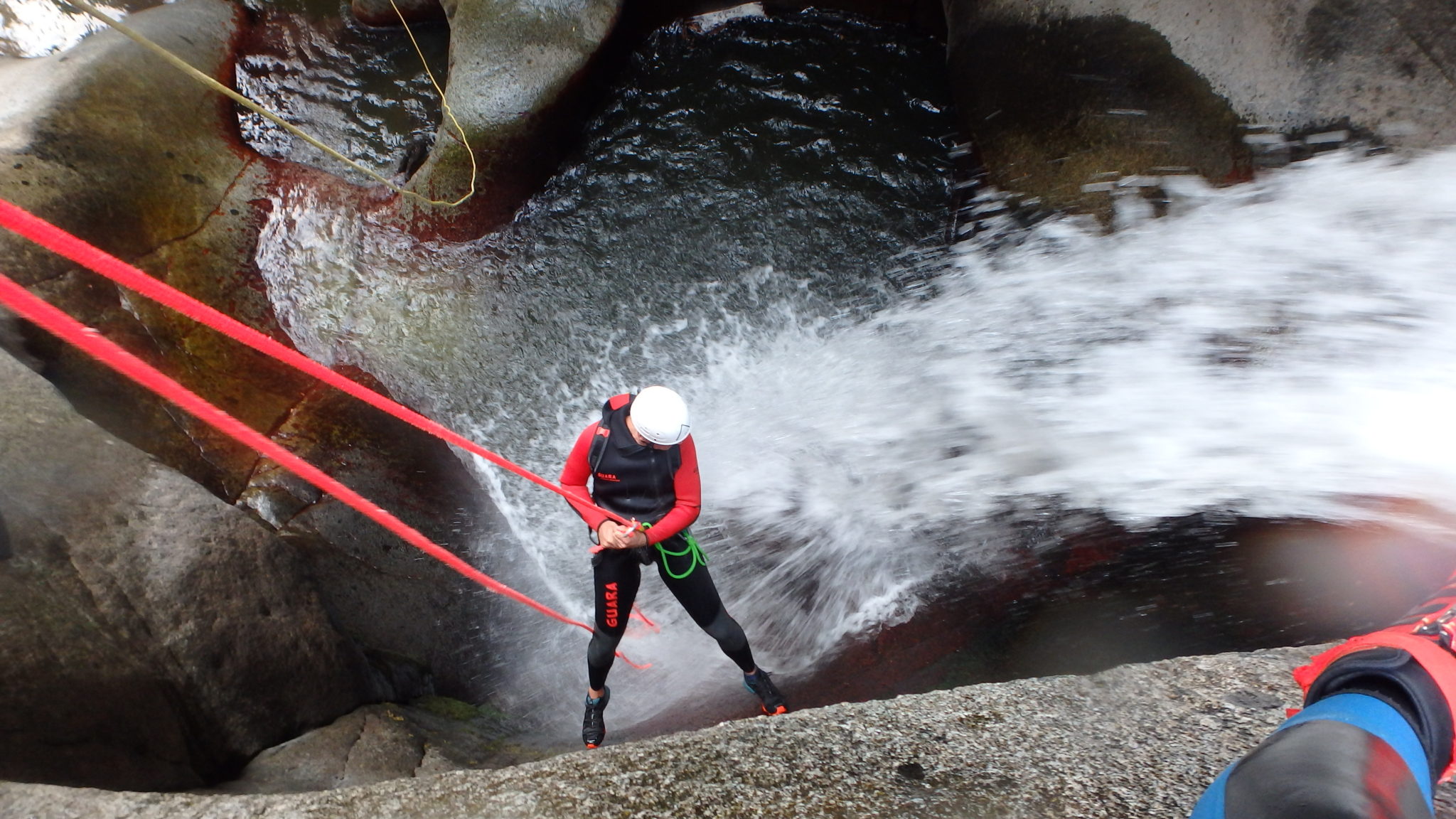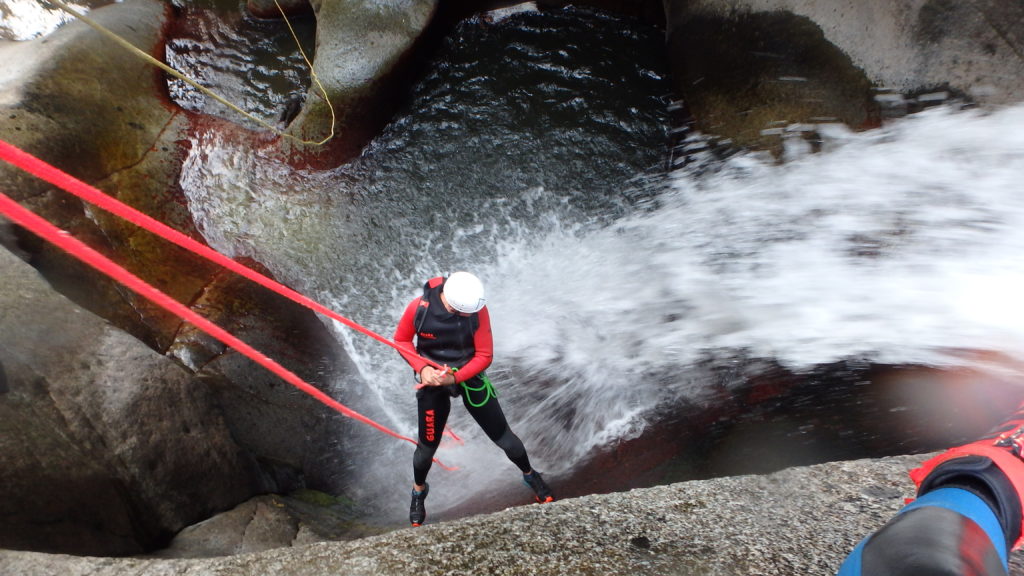 How to book a canyoning trip?
You can book online in just a few minutes, by clicking on the button below:
You can also book by email or phone. If you need additional information, we will be happy to answer all your questions:
What equipment is needed for canyoning?
The practice of canyoning requires a specific individual equipment :
A neoprene wetsuit to fight against hypothermia and protect you from shocks, thanks to reinforcement in areas where friction is important.
Un Headphones essential and mandatory, resistant to possible rockfalls.
Un harness adapted to the practice of canyoning.
Turnkey lanyards equipped with 2 carabiners.
Un descender "eight" type for abseiling.
Exterior Nature is committed to providing you with the necessary equipment for all its canyoning outings in the Pyrénées-Orientales. The equipment complies with CE standards and is checked and checked daily, to guarantee the highest level of safety.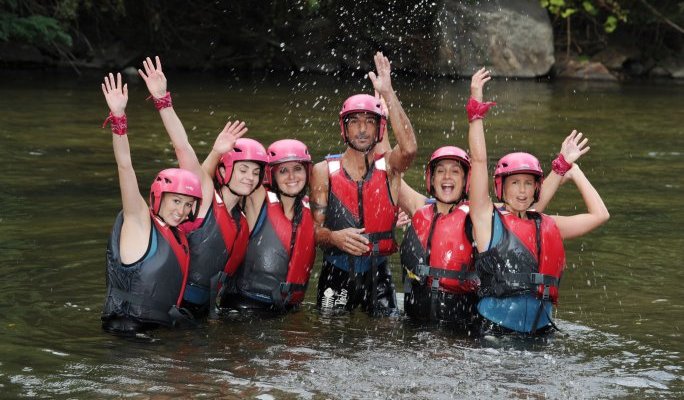 What do you need to plan for a canyoning outing?
A swimsuit.
A pair of sports sneakers.
A towel.
A bottle of water and a small snack: you will need it when you return from your outing.
A picnic for the Small Day and Big Day Canyoning outings.
In which cases can my reservation be cancelled?
The feasibility of your outing depends mainly on the weather conditions. For this, our guides regularly monitor the weather to determine if the practice of canyoning is feasible on the day of your outing. In case of cancellation, you will be notified in advance by telephone.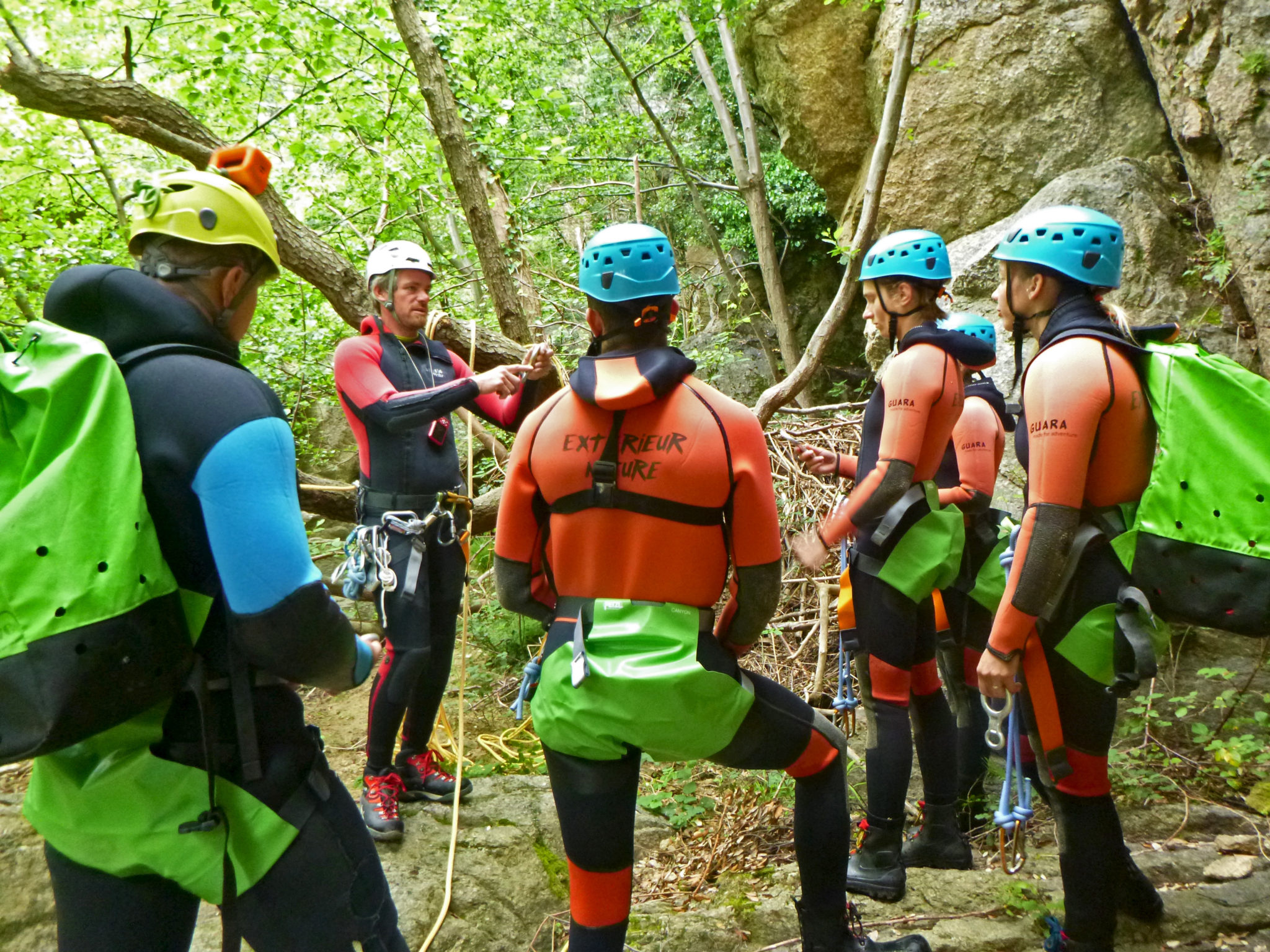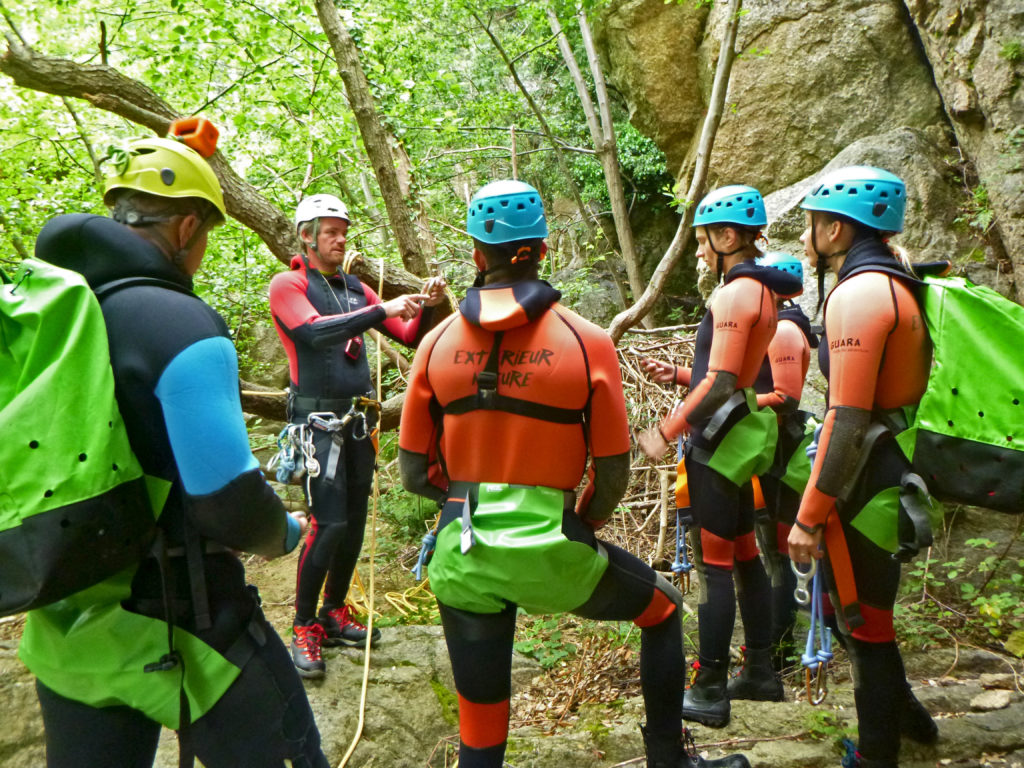 Who supervises the canyoning outings?
All our canyon outings are supervised by professional guides and instructors holding the federal patent, certified by the French Mountain and Climbing Federation (FFME). They regularly go through all the canyons to check the state of the tracks, the mooring points and the water level. The icing on the cake: their expertise does not detract from their good humor and friendliness!
Exterior Nature is made up of a team of nature and whitewater sports enthusiasts, based in Marquixanes and operating throughout the Pyrénées-Orientales department. We have been working for more than 10 years at your service, to offer you a cocktail of activities that suit you.
Our priority? Your satisfaction.
Our objective ? Give you unforgettable memories.
Our guarantee? A professional and smiling team at your service.
Our motivation? Sharing our passion for nature.
Can we practice canyoning in all seasons?
The south of Languedoc Roussillon offers a vast playground for outings in the canyons in all seasons.
From autumn to spring, enjoy the hot water basins of the Thuès canyon, unique in Europe.
Spring, summer and autumn are the ideal seasons to explore the canyons of Molitg, Llech, Gourg des Anelles, Mas Calsan, Cady and Taurinya.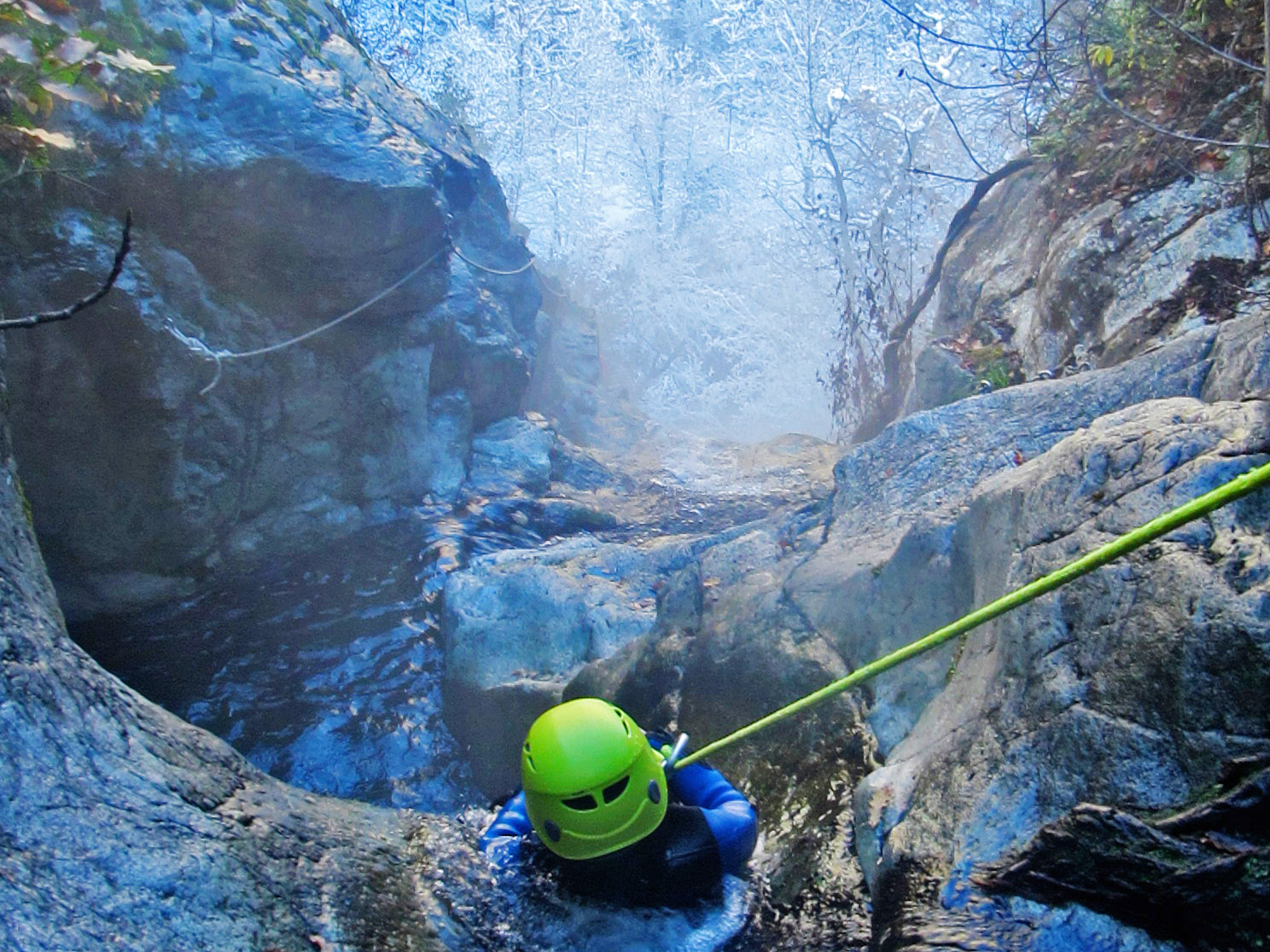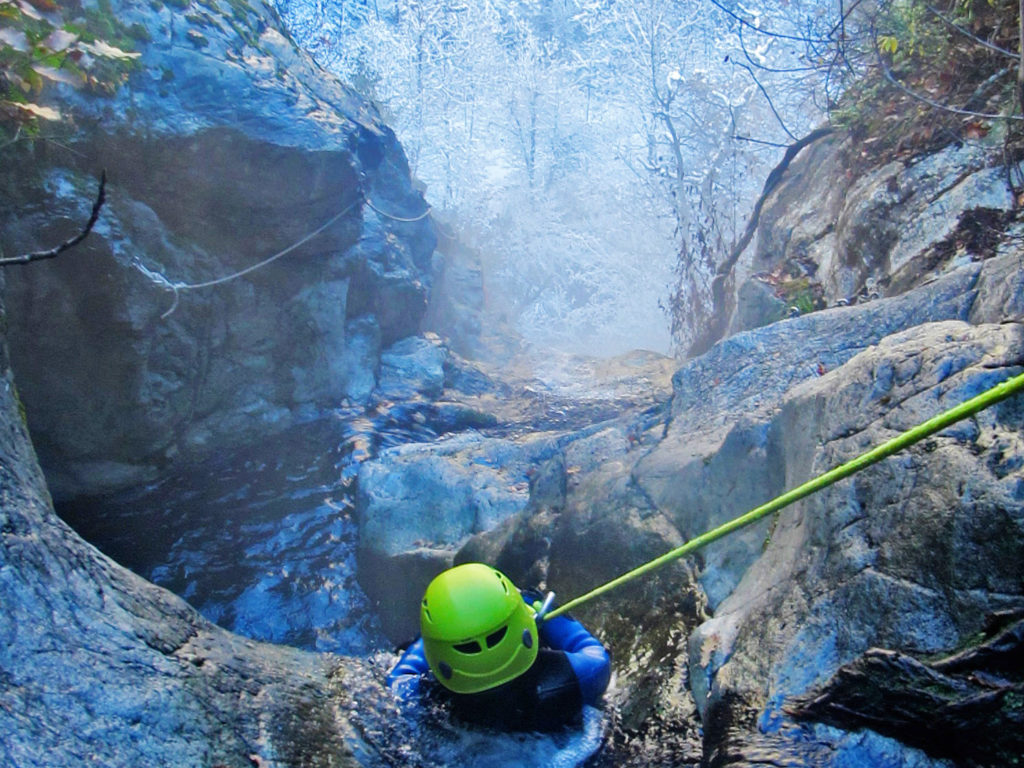 Can we do canyoning if we are not very sporty?
Yes, there are very beautiful initiation canyons in the Pyrénées-Orientales, easy and accessible to beginners. This is the case of the discovery canyons of Molitg, Galamus and Thuès. Supervised by professionals in the discipline, all audiences can indulge in the pleasures of white water. The only condition is to know how to swim.
However, some more challenging and longer canyons, such as the famous Llech canyon or day canyons, require good physical condition to be appreciated.
Our team is available to guide you on the level of canyon that best suits you.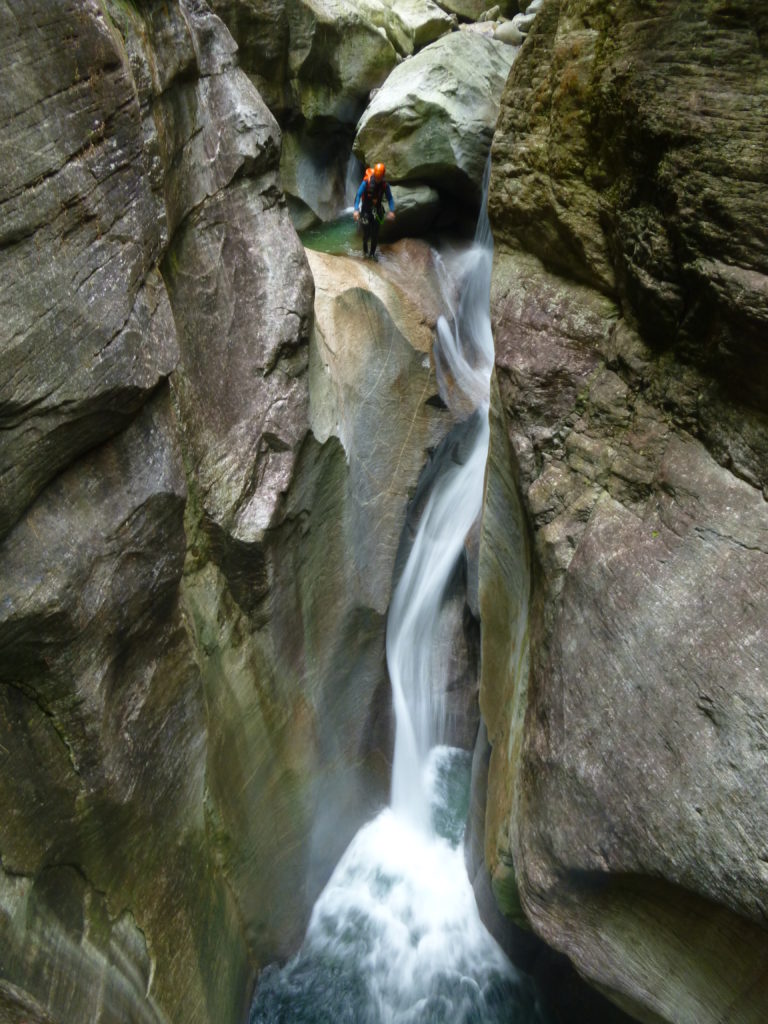 What is the rating of the canyons?
The canyons are rated according to three criteria:
The difficulty in the vertical character: the letter V followed by a number from 1 to 7.
The difficulty in the aquatic character: the letter A followed by a number from 1 to 7.
Difficulty in commitment and scale: a Roman numeral from I to IV.
Our canyons in the Pyrénées Orientales are rated as follows: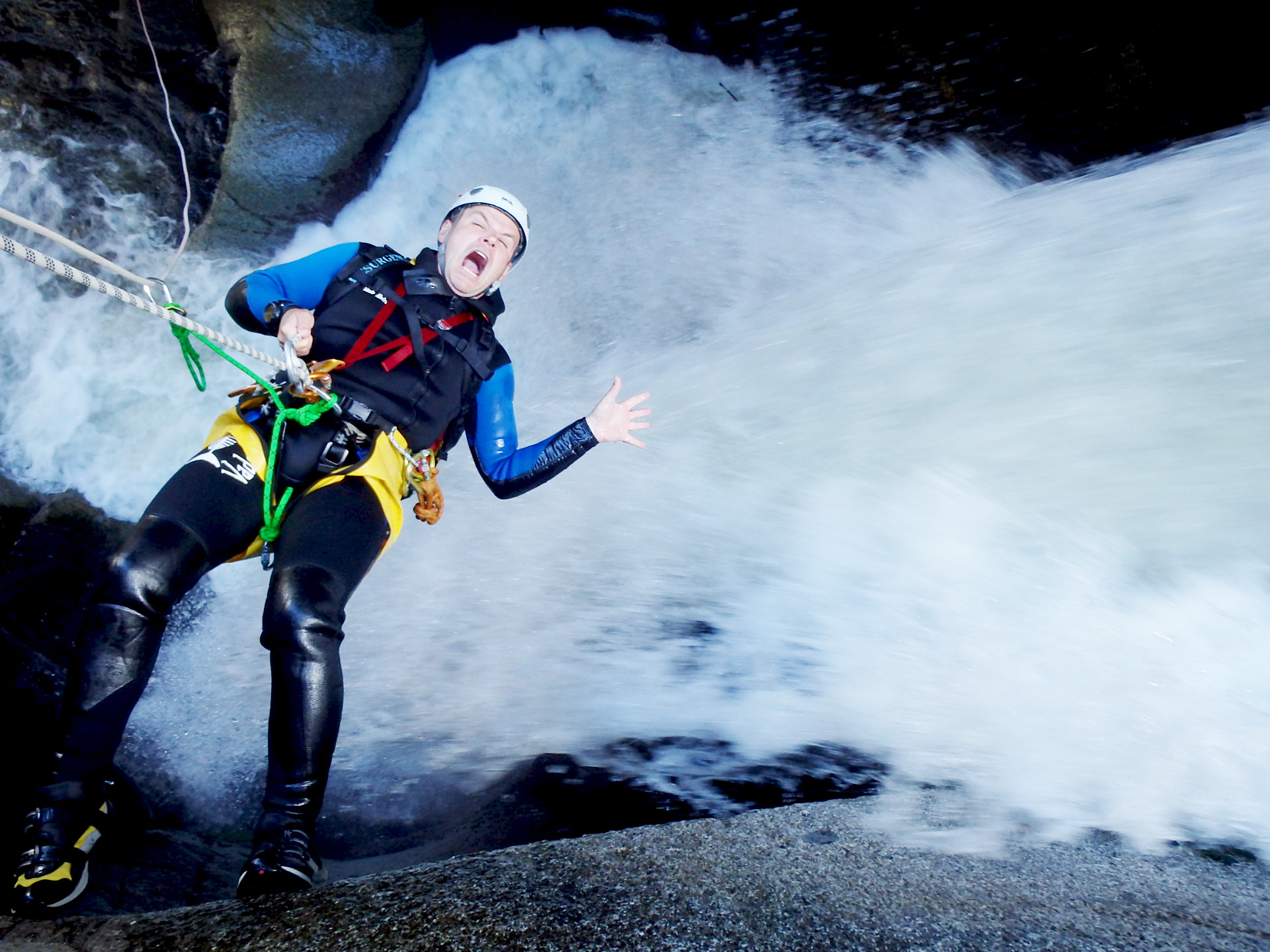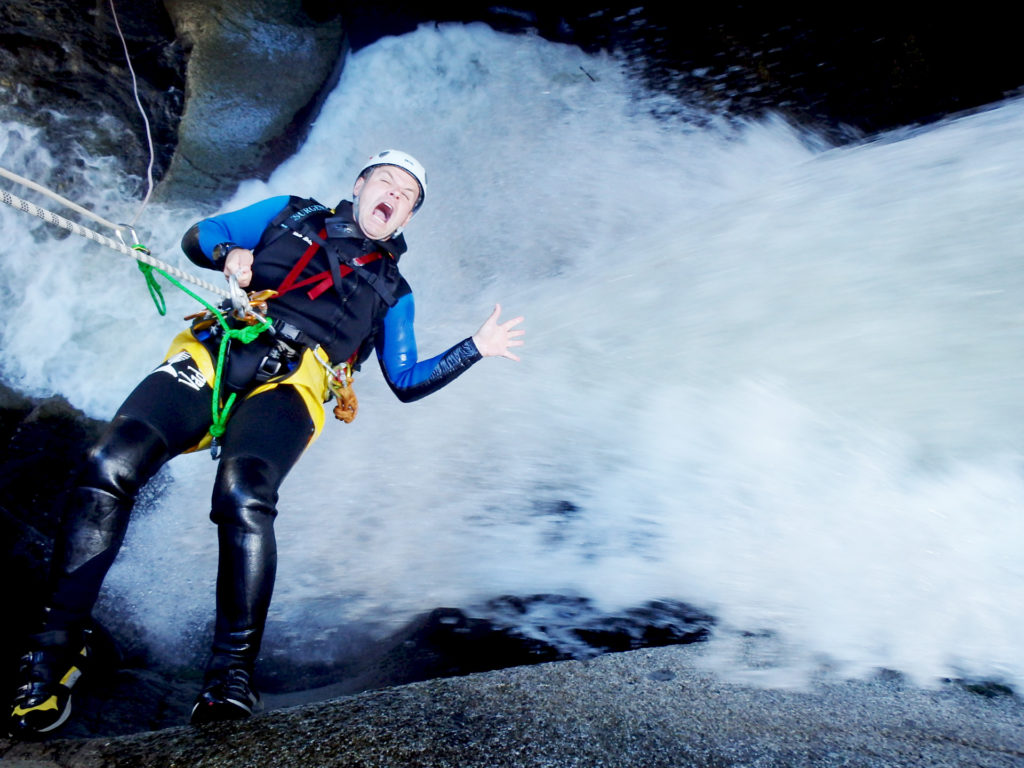 Facebook review: great canyoning experiences with Exterieur Nature
Nanie Battalion
about 3 years ago
First experience in canyoning. I had a lot of fun and loved it. The landscapes are magnificent. Thanks to Guillaume our guide who was really on top 👌
To find out more about canyoning, check out our news and blog articles!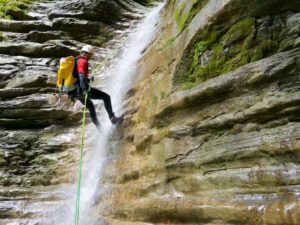 All you need to know about canyoning Canyoning, also called canyoning or canyoning, is an outdoor sport that has
Read more "