A tree climbing outing for your children (3 to 9 years old)

An ideal setting to create beautiful memories under the trees with friends.
We will be delighted to welcome you to celebrate this event as it should be on our 100% natural activity base.
Large spaces, to allow the expression and freedom for children to play and flourish in a balance between nature et security.
At your disposal all the ingredients for a successful birthday including:
> original invitation cards to color that your child can distribute to his friends.
> a quality supervision : briefing and ground surveillance.
> theentry to the Exterior Adventure park will be offered to the child who will celebrate his birthday.
Our little extras:
Why celebrate your birthday at Marquixanes?
A 100% Nature setting
A smiling and available team
The comfort of the site: the base is equipped with all the amenities necessary for the smooth running of your day: toilets, free changing rooms, lockers, 2 free car parks, and catering options:
– A picnic area along the river is reserved for you.
- Our tavern " The rock " will also be happy to welcome you on its panoramic terrace overlooking the park and the Têt river.
Thanks to our duo entry, it is also possible to combine Tree climbing and Tubing for full day in the middle of nature.
Duo offer = 1h of tubing + 3h of tree climbing course
Equipment required: A swimsuit and a pair of basketball shoes for tubing + a comfortable outfit and a pair of basketball shoes for tree climbing.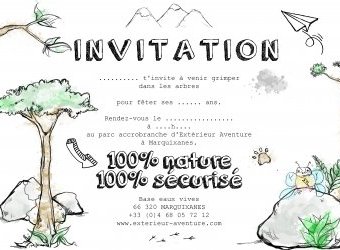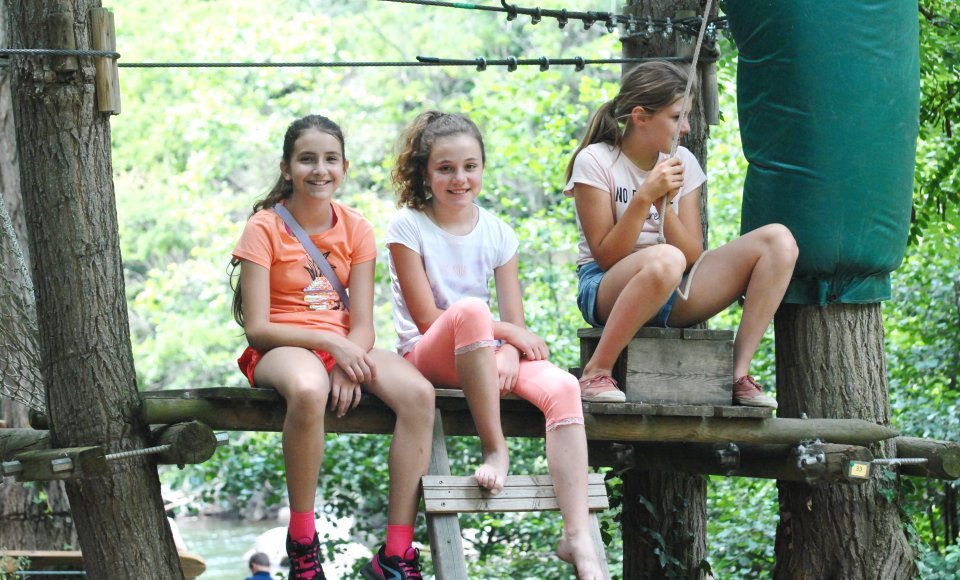 A real challenge, after having formed your teams, you will compete in 3 areas of activity: water, land and air for half a day or a whole day.
This concept of Mini-Raid takes place on our base of activities but is also exportable and adjustable on a place of your choice.
In the program :
2h30 or 4h30 of activity depending on the desired formula
An aquatic event: tubing + towed rafting
A land event: ecological orienteering
An aerial test: aerial course + zip lines

The mini raid is a immersion in the natural environment which highlights the solidarity, cohesion and team spirit everyone in a friendly and dynamic atmosphere.
For the smooth running of activities and in a spirit of conviviality and competitiveness, the participants will be divided into teams on the different events.
Tubing is an individual buoy specially designed for river descent. Using a double paddle, you will cross the river. This activity can be done in the form of relay or slalom. Freshness and fun guaranteed.
Adventure event: Green orienteering
Beacons have been hidden on more or less recognizable obstacles. Using a map, each team will have to find their precise locations and punch them on the card provided for this purpose in the order of their choice. Puzzles will be attached to each beacon, earning bonus points.
Optional :

A quiz on the theme of your choice can be appended: professional, general knowledge, news...

In one "ecological" citizen spirit : the participants, equipped with garbage bags, will have to collect as much waste as possible, a weighing at the end of the event will determine the winning team.
Aerial test: Tree climbing course
The teams will compete on
two courses
of different levels thanks to numerous
zip lines
, rope bridges
above the river
and other workshops...
The most beautiful acrobatic figures will allow you to win this aerial test.
Your brother, sister, cousin, best friend chose you as a witness? It's up to you to organize the essential EVG: bachelor or bachelorette party.
Right in the middle of our 100% Nature wooded park, take on our tree climbing course and their zip lines going up to 140 meters above the Têt river.
You can then relax with a drink and a plate of tapas on the terrace of our Guingette Le Caillou overlooking the park and the river.
Ultimate option, the duo offer, offering you both the tree climbing course and the tubing descent, this offer is only available during the months of July/August.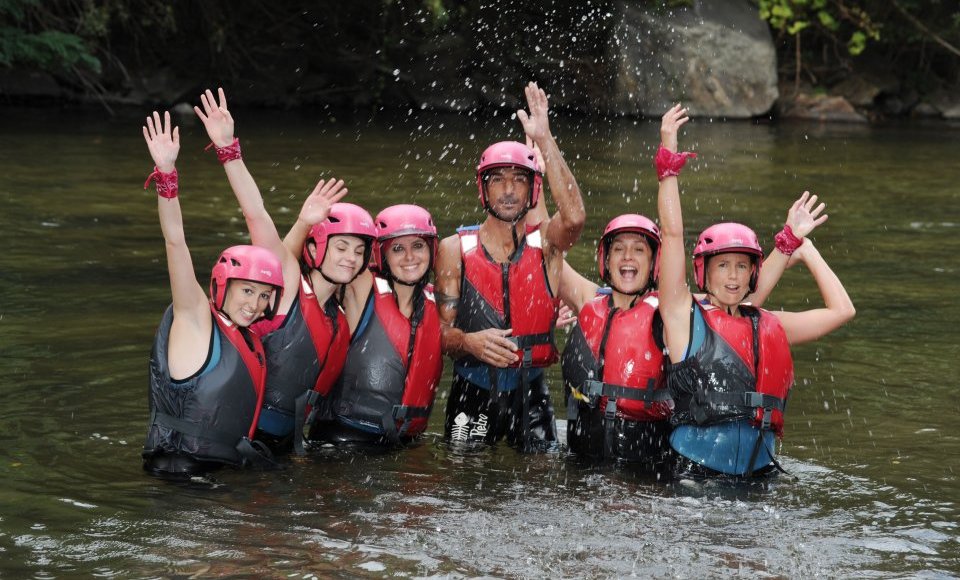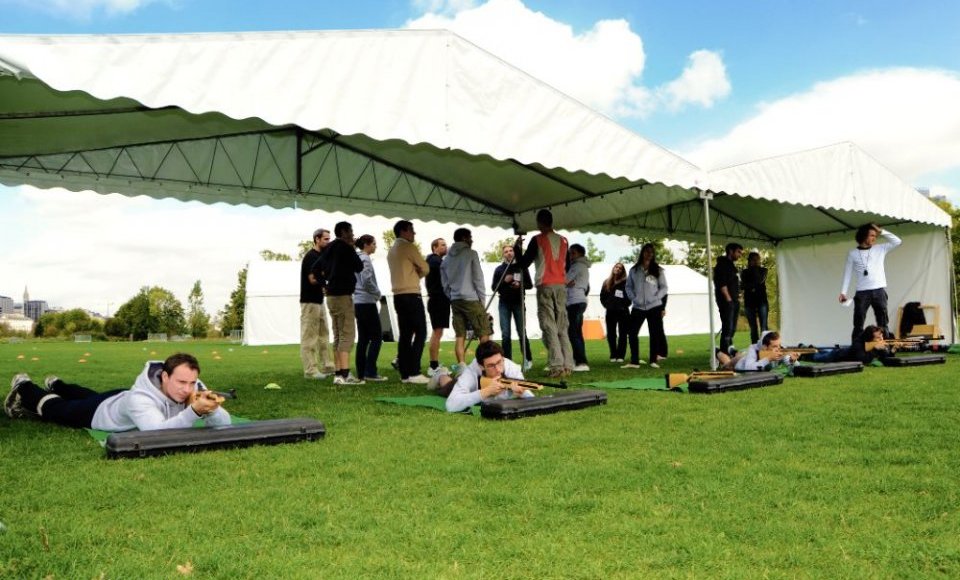 For your day team building, we offer you a ludo-sports challenge multi-activity in the form ofOlympics bringing together different events over the course of half a day or a full day.
In the program :
A team of professionals at your service
Original and customizable activities at all levels
2h30 or 4h30 of activity depending on the formula chosen
An unforgettable adventure
Our concept: Team building Olympiad
In total immersion in the heart of nature, we offer you a series of different activities in the form of a challenge.
This day highlights the solidarity, complementarity et team spirit of your group in a friendly and dynamic atmosphere.
A rotation system will be established allowing the teams to meet at the different poles.
These Olympiads are divided into 3 poles made up of a wide choice of activities:
The earth pole : treasure hunt, ecological orienteering course, laser biathlon, obstacle course, etc.
The aquatic center : tubing ball, towed rafting, slalom with different boats (canoe, tubing, raft…), etc.
The air hub and address : tree climbing, pipeline, infernal tower, shuffleboard, Dutch billiards, giant solitaire, etc.
At the end of the event a general classification is established to reward the most productive, the most united, the most diligent team.
These Olympiads are entirely flexible according to your requirements.
This concept is suitable for all audiences and can be carried out everywhere, on our
base of marquixanes
in urban or natural areas, throughout France but also abroad.