Explore Game
Treasure hunt – outdoor escape game
Dive into the fantasy world Druids of Cellardhor and embark on a epic quest ! Will you get up challenge ? Can you outsmart the traps, find the Indices and solve all puzzles ? Live a unique adventure mixing treasure hunt et outdoor escape room, just 25 minutes from Perpignan, in the Pyrénées-Orientales (66).
Outdoor escape game: an adventure and exploration game
The Explor Game: an escape game and outdoor treasure hunt
Discover a new concept : L 'ExplorGames®, a outdoor escape game mixing the digital and nature. The Druids of Cellardhor quest is a digital treasure hunt on tablet. In our wooded park in the heart of Eastern Pyrenees, escape to a mysterious and extraordinary world. An original and fun activity in a 100% natural setting.
Equipped with a touch pad, you will have to enquêter, look for hidden clues, to elucidate mysteries and take up challenges. Your mission: find the GPS (geocaching) points hidden throughout the 2,5 hectares of the park. At each beacon, a challenge or an enigma will be waiting for you.
To succeed in your quest and overcome the many puzzles, your Sens of observation, logical, endurance, reflection, deduction et team spirit will be put to the test... Will you be able to demonstrate composure and ingenuity? Can you solve the puzzles within the time limit?
Put on your costumesadventurers for unusual life-size experience. The Druids of Cellardhor quest is a thrilling adventure to live in family ou With friends. a entertainment for all ages, from 7 to 77! Ready ? fire… play!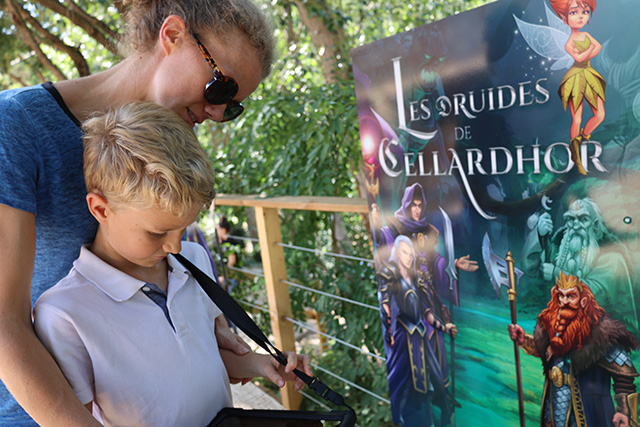 On the program of your life-size game:
Duration of the activity: you have 1h30 to complete your mission and save Cellardhor.
9 challenges and puzzles hidden in the middle of nature in our 2,5 hectare park.
Minimum age: from 7 years old.
Numbers of players : game by team(s) of 2 to 5 players (one adult minimum per team).
Independent activity : children are the responsibility of their parents and must be accompanied by an adult.
Explor Games prices – Pyrenees-Orientales (66)
Our rates include:
The loan of preloaded touch tablets (one per team). A deposit will be required.
A briefing detailing how the game works and the safety instructions.
You have an hour and a half to accomplish your mission.
Payment possible by credit card, check, holiday vouchers and cash.
Practical information Explor Games Outdoor Nature
Planning and opening hours of the leisure park
July August : open every day from 10 a.m. to 20 p.m., non-stop.
Off season : weekends, public holidays and school holidays: open from 13 p.m. to 18 p.m., non-stop.
To make a group reservation: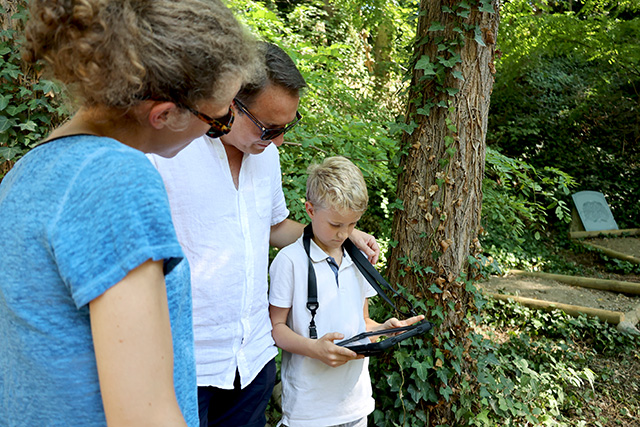 Access to the outdoor escape game
The Explor Game activity is located in the heart of the Outdoor Nature leisure park, in Marquixanes.
A quick drive, and you're there! Your outdoor escape game is located only:
25 minutes from Perpignan
40 minutes from Argelès-sur-Mer, Canet-en-Roussillon and Saint-Cyprien
5 minutes from Prades
The quest of the Druids of Cellardhor: an original escape game close to Perpignan
A thrilling fantasy storyline
Escape to the fantasy world of Cellardhor. In this distant land, Men and Dwarves lived in peace and harmony for centuries. Their greatest wealth was the Forest of Nywënn, source of all souls and of great power. Thanks to the powerful Order of Druids, the forest and harmony were preserved.
Unfortunately, the power of the Forest of Nywënn aroused covetousness. The Dark Elves of Dao-Sith invaded Cellardhor to seize it. During the "War of the Three Peoples", they defeated the alliance of Men and Dwarves and annihilated the Order of the Druids. The latter were persecuted and had to hide to survive.
But the story does not end there. It's just getting started! You are former novices of the Order of Druids, living as simple peasants to escape persecution. But the hope of freeing Cellardhor from the invader remains. You alone have the power to change fate and thwart the curse of the Dark Elves. Your quest to restore peace will take you to the far reaches of the Lands of Cellardhor. To succeed in your mission, you will have to face challenges, unravel mysteries and fight against the forces of darkness. Are you ready ?
Cellardhor's story in video:
Escape Game in the middle of nature in Marquixanes: good to know
What should I plan for this activity?
For the Explor Games® activity, you have nothing special to plan.
Just remember to bring comfortable sportswear.
My child is 6/7 years old, is the scenario suitable?
The scenario concerns a druidic world mixing the medieval and fantastic spirit. The scenario is suitable for children, but the presence of an adult is necessary for the understanding and realization of the various puzzles, as well as for the equipment lent.
In which case can my activity be cancelled?
Your activity may be canceled if the weather conditions do not allow it. Indeed, this activity is an outdoor escape game. Our teams regularly monitor weather reports. Thus, in case of cancellation you will be notified as soon as possible and will be fully refunded.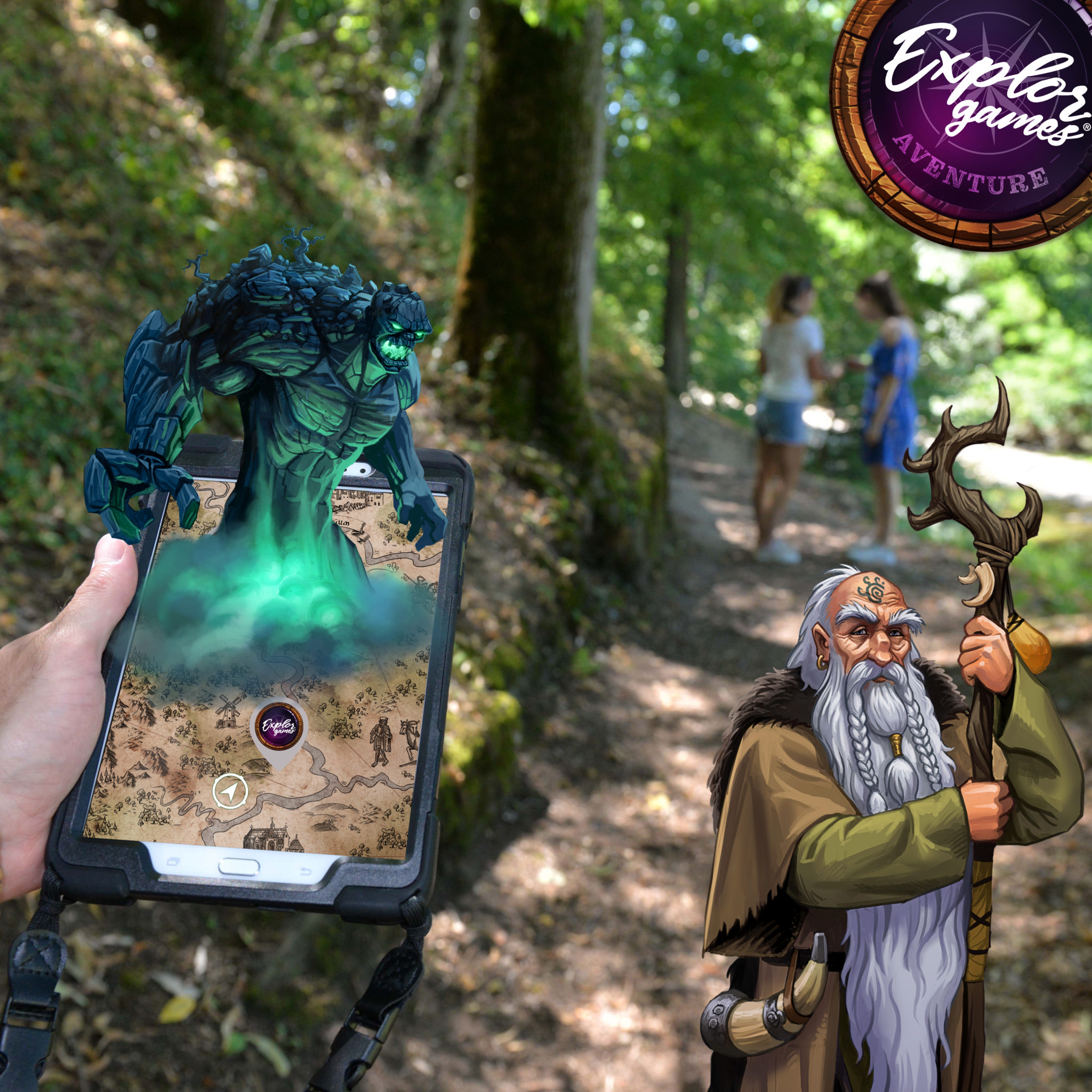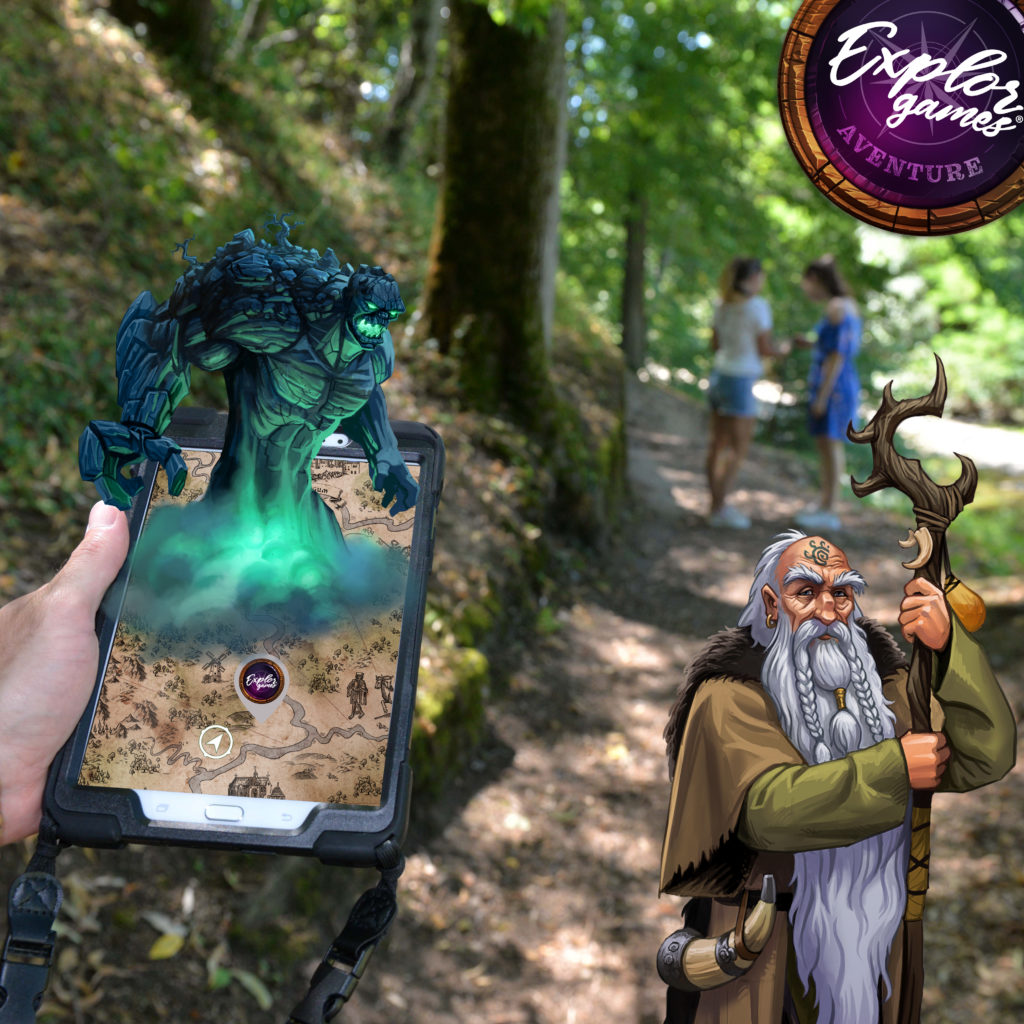 Each team consists of 2 to 5 players. If you are 10 or more, it will be necessary to create several teams. This will put more challenge between you! Six teams can play simultaneously.
companies:
Looking for a original team-building idea ? Try Outdoor Nature Explor Games! It is the ideal activity to reinforce the team cohesion, any while having fun between work colleagues! We also offer a whole range of activities for corporate events successful.
Groups of friends:
You want to organize a bachelor party or an bachelorette party unusual? Look no further, we have what you need! With Cellardhor's quest, come experience a unique experience with friends ! Discover all our great ideas for organizing a EVJF or an EVG unforgettable.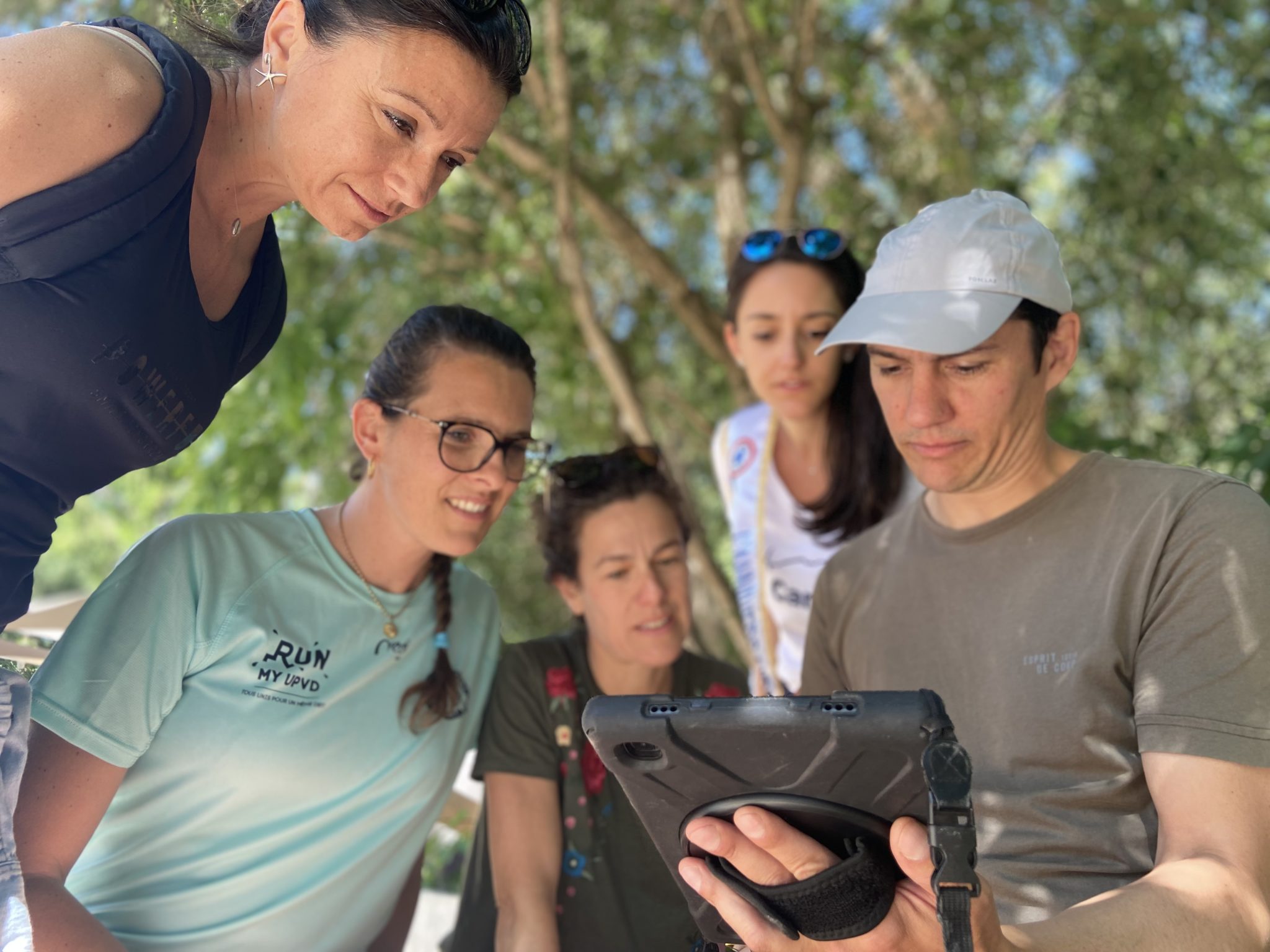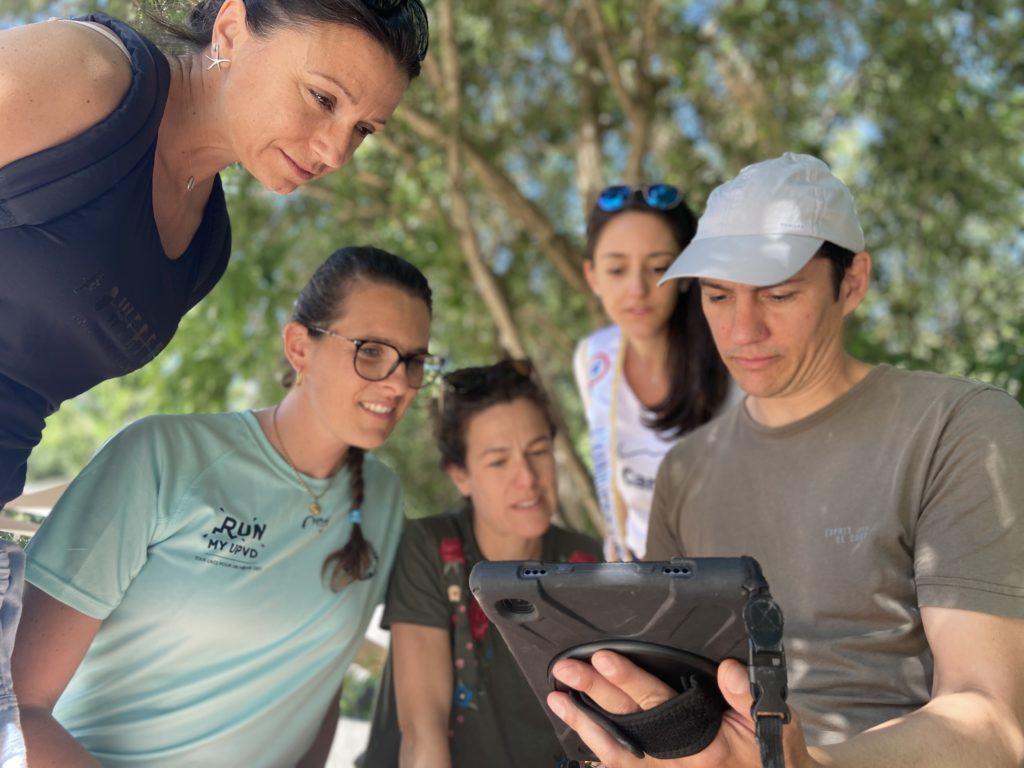 Enjoy the shaded terrace of our restaurant Le Caillou. Located in the heart of our leisure park, Le Caillou is perfect for small snacks between two activities, but also for big appetites!
Exterior Nature provides you with all the useful amenities to spend a good day: free parking, toilets, lockers, etc.
Discover all the outdoor activities of our leisure park
Follow us on social networks