Canyoning the Llech – level III
full of sensations!
Go on an adventure in the Llech gorges, THE canyoning site essential Pyrenees-Orientales (66). Located 30 minutes from Perpignan, Llech canyon is one of the most playful in Europe, ideal for athletes in order to strong feelings. If you are looking for a aquatic activity full of challenges and discoveries, Llech canyoning outing is for you!
The Llech canyon in video by EXTERIEUR NATURE
Components of the Llech canyoning trip
An approach walk of about 30 minutes is necessary to access this little wild gem.
Then it's off to 2h30 of adventures, with a sequence of 21 waterfalls !
A veritable bouquet of sensations, the Llech is famous for its variety of obstacles to overcome:
Fantastic jumps 5 to 9 meters high.
great abseiling under waterfall, up to 15 meters high.
A multitude of natural slides, each more fun than the next, including the "washing machine", the famous "S", or even the impressive "surprise"!
From the almost complete white water swimming in torrents and pools of crystal clear water.
Some rocks to climb or de-escalate.
Finally, the return walk, uphill, takes 45 minutes.
These prices include :
Supervision by one of our state-certified professional guides, always friendly and passionate about canyoning.
The complete equipment for the practice of canyoning in complete safety.
Souvenir photos of your outing.
Insurance for the supervised practice of canyoning (professional civil liability).
For any additional information, contact us, we will be happy to answer your questions:
Canyoning trip to Llech: practical information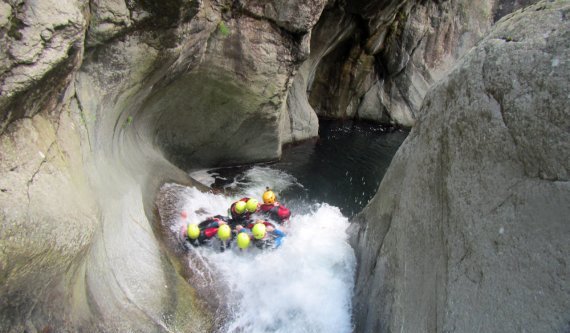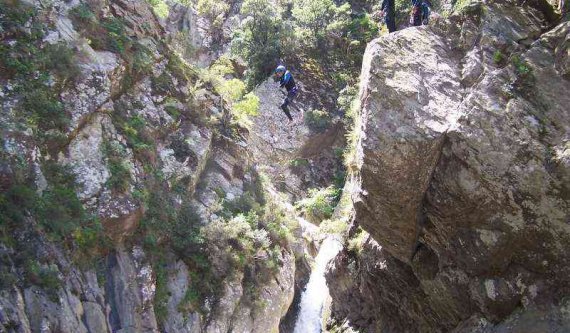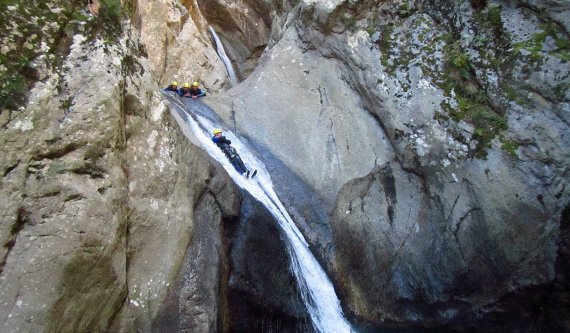 All the equipment necessary to practice canyoning in optimal safety conditions is provided to you:
Jumpsuit full neoprene
Helmet specially designed for canyoning
Harness with protection and descender
Pair of neoprene socks
Canyoning shoes (on demand)
On demand, cereal bars and bottled water transported by the guide in his waterproof bag
All this equipment is CE approved and checked daily.
A swimsuit
A pair of sports shoes
A towel
A small snack and a bottle of water to consume when you return from the activity
A USB key to recover the photos of your outing
The activity lasts approximately 4 30 pm :
30 minutes of briefing and equipment
30 minute approach walk
2h30 canyon descent
45 minute walk back
15 minute debriefing
Meet at outdoor leisure park Exterior Nature to collect the equipment and join the guide.
Located in Marquixanes, the park is only:
25 minutes from Perpignan;
40 minutes from Argelès-sur-Mer, Saint-Cyprien, Canet-en-Roussillon;
8 minutes from Prades.
You can also take the opportunity to enjoy a coffee before your activity or have lunch at the Restaurant Le Caillou when you come back ! To reserve a table: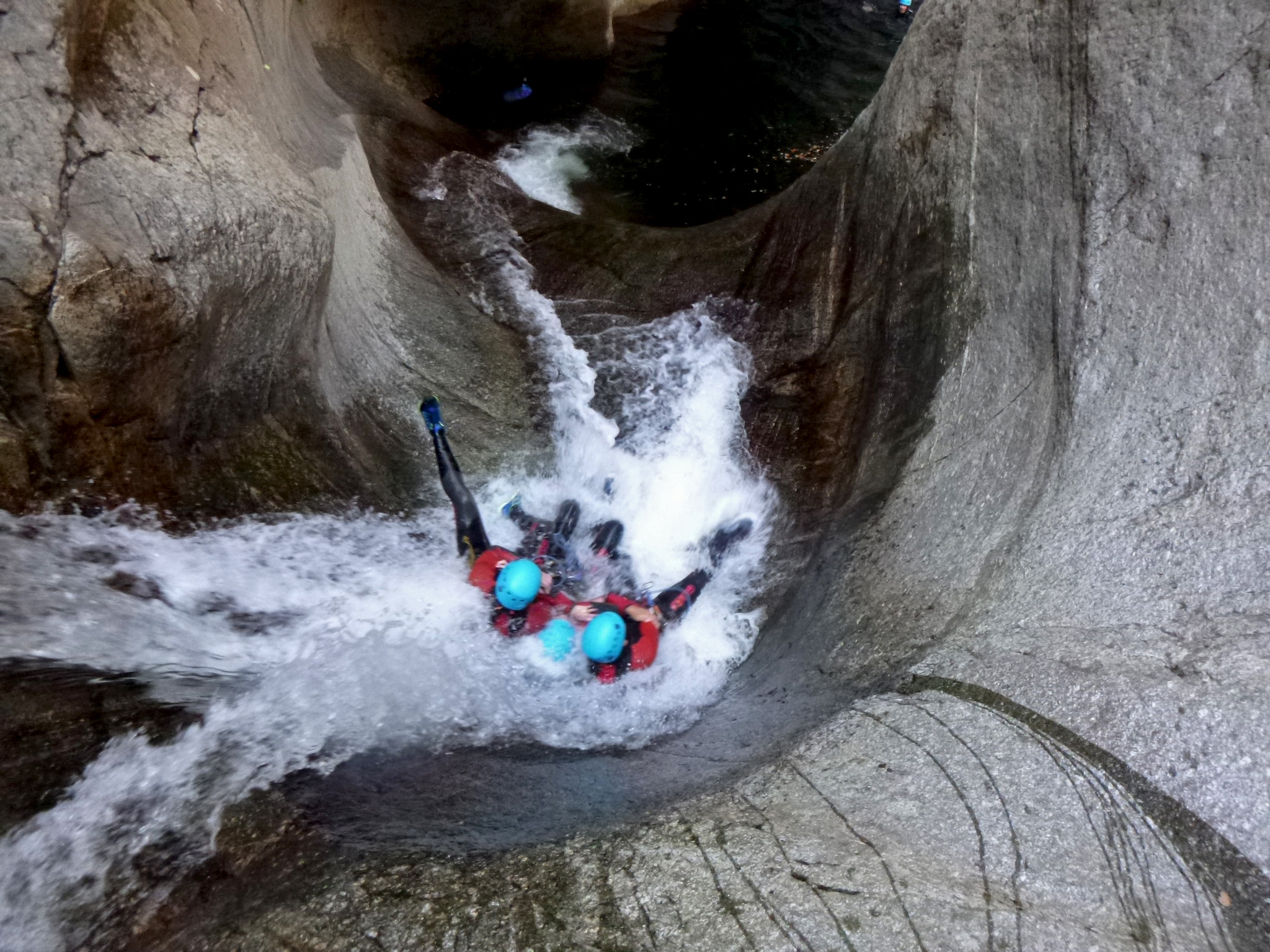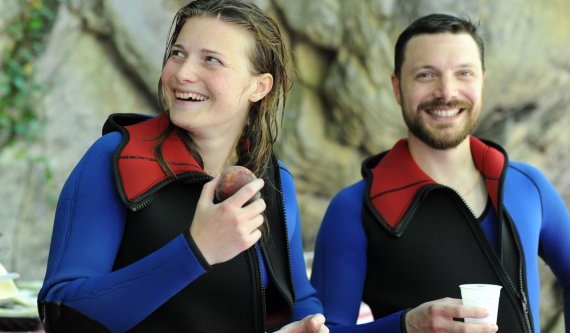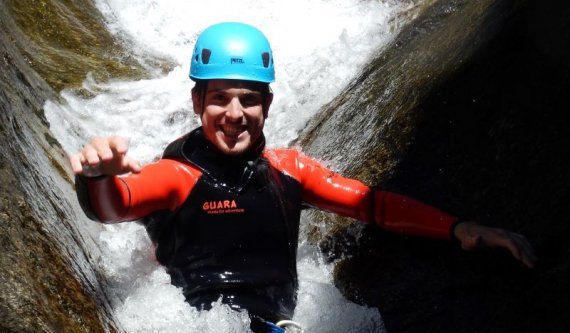 Canyoning le Llech: a sporting outing with friends or family
The Llech is a level III canyon (rating v3a4III) ideal for:
Seasoned athletes, lovers of challenges and in search of adrenaline rushes.
Groups of friends who are used to sporting outings in the great outdoors.
​The organizers of bachelor parties, looking for a memorable activity.
Lovers of the mountains and thrills.
Be at least 16 years old.
Be in good physical condition: the exit is very rhythmic and the return walk uphill can be difficult.
Ideally, have a first experience of canyoning in a natural environment.
Be comfortable in the water, know how to swim at least 25 meters and be able to immerse yourself (put your head under water) without fear.
Have no fear of heights and be able to jump 4 meters.
The Llech gorges are open to canyoning outings from mid-April to the end of September. For a very sporty and very wet outing, prefer spring and the month of September. In June, July and August, the water flow is lower, making the Llech canyon more accessible.
The Llech: a breathtaking canyon
The Llech canyon is one of the most famous in the south of France. Located in the heart of the Canigou massif, it offers a breathtaking landscape, with its steep cliffs and crystal clear waters.
The setting of the Llech gorges is simply sumptuous. The approach walk to the start of the canyon is already grandiose, with breathtaking views of the valley and the surrounding mountains. Once you get to the canyon, the scenery is even more striking, with tall white rock cliffs rising on either side of the stream. The clear and fresh water of the Têt river meanders along the gorges, offering a wild and preserved setting.
Descent of the Llech canyon: good to know
In which case can my outing be cancelled?
The feasibility of your outing depends on weather conditions and water flow. For this, our guides regularly monitor the weather and the water level, in order to determine if the practice of canyoning is feasible in optimal safety conditions. In case of cancellation, you will be informed in advance by a phone call.
I have back and joint problems, I recently had surgery, can I still do the activity?
It is strongly advised to seek the advice of your doctor beforehand, in order to avoid any complications during the outing. In any case, the activity requires the absence of medical contraindication to the practice of canyoning.
If in doubt, please let us know when booking.
Compose your day of tailor-made activities with Exterieur Nature!
The meeting point is in the heart of the Outdoor Nature leisure park. Did you know that we offer a multitude of outdoor activities, for adults, teenagers and children? Tree climbing, tubing, Explor game, canyoning, rafting, etc. Compose your tailor-made leisure day! To know more, discover all our activities and:
Discover all our outings in the most beautiful canyons of the Pyrenees-Orientales
To learn more about canyoning, check out our blog posts: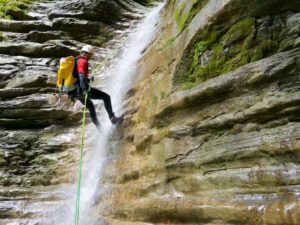 All you need to know about canyoning Canyoning, also called canyoning or canyoning, is an outdoor sport that has
Read more "