Your child was born in spring, between April and September? This is an opportunity to celebrate outdoor birthday party!
We let off steam, we play sports, we shout in the open air!
The tree climbing park ofOutdoor Nature-adventure a Marquixans (66) offers for children, teenagers and adults full of ideas and
by activities to compose your birthday day.
A birthday in nature on the Outdoor Nature-adventure tree climbing park in Marquixanes (66)
An outdoor birthday party? We adhere!
A tree climbing outing for your children (3 to 9 years old)

An ideal setting to create beautiful memories under the trees with friends.
We will be delighted to welcome you to celebrate this event as it should be on our 100% natural activity base.
Large spaces, to allow the expression and freedom for children to play and flourish in a balance between nature et security.
At your disposal all the ingredients for a successful birthday including:
> original invitation cards to color that your child can distribute to his friends.
> a quality supervision : briefing and ground surveillance.
> theentry to the Exterior Adventure park will be offered to the child who will celebrate his birthday.
Our little extras: Why celebrate your birthday at Marquixanes?
A 100% Nature setting
A smiling and available team
The comfort of the site: the base is equipped with all the amenities necessary for the smooth running of your day: toilets, free changing rooms, lockers, 2 free car parks, and catering options:

– A picnic area along the river is reserved for you.

- Our tavern " The rock " will also be happy to welcome you on its panoramic terrace overlooking the park and the Têt river.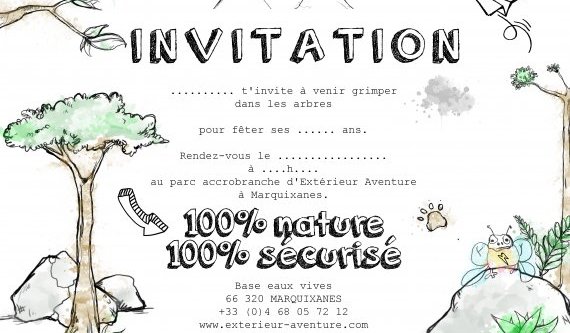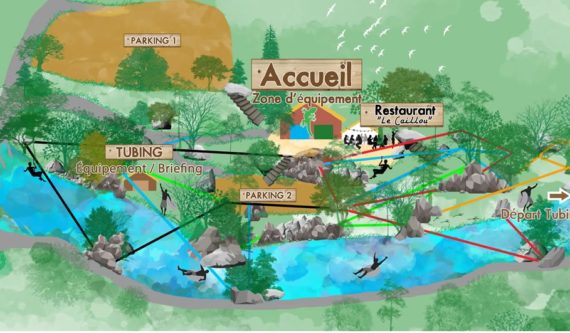 For your teenagers, 2 times more Pleasure! (over 10 years old)
Thanks to our duo entry, it is also possible to combine Tree climbing and Tubing for full day in the middle of nature.
Duo offer = 1h of tubing + 3h of tree climbing course
Equipment required: A swimsuit and a pair of basketball shoes for tubing + a comfortable outfit and a pair of basketball shoes for tree climbing.