All you need to know about tree climbing
Since the 2000s, the tree climbing parks have multiplied throughout France, to the delight of climbers of all ages. Alternately called adventure parks, acrobatic parks at height ou tree climbing parks, they have never been so popular with the general public. But what exactly are we talking about? What is tree climbing ? Who is behind this original sports activity ? This meteoric rise led the authorities to regulate the practice of adventure courses, to guarantee the security users. There is also the question of the tree preservation used in parks. At the house of Exterior Nature, we welcome lovers of outdoor sports in our beautiful adventure park, since 2007. We explain everything you need to know about theTree Climbing park.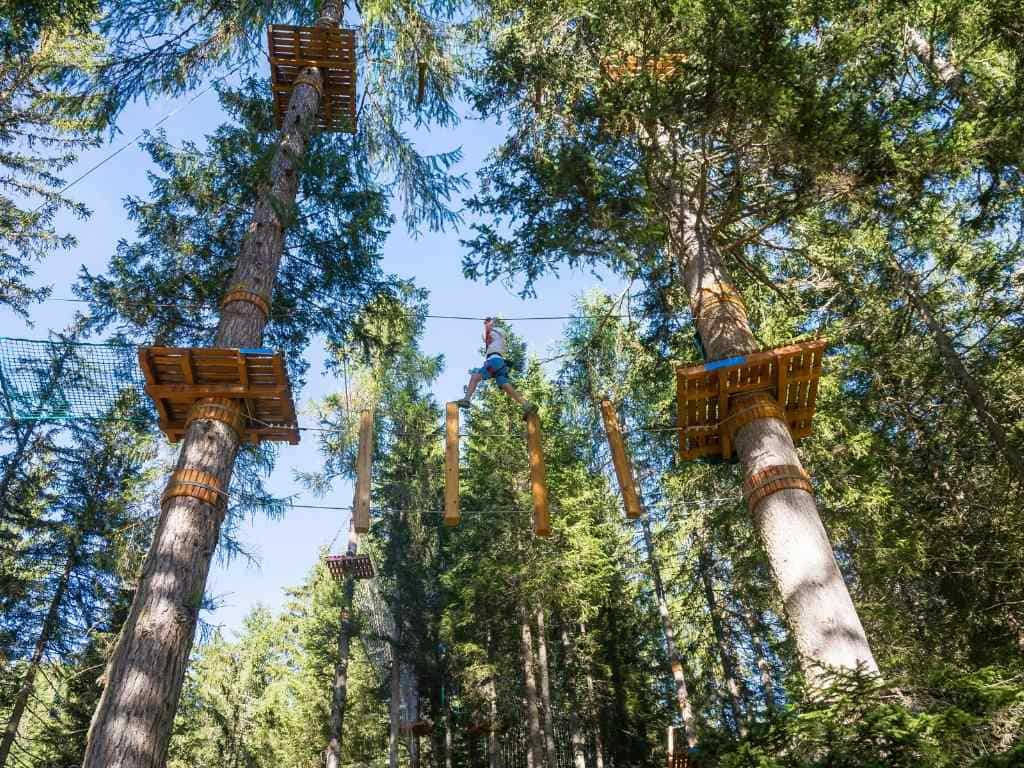 What is tree climbing? A sport of climbing in the middle of the trees!
The adventure courses are located in parks equipped with structures, facilities and platforms allowing you to move from tree to tree (or sometimes between pylons or rocks). The principle is to move in height, without ever touching the ground, in a more or less acrobatic way, in autonomy.
Using cables, ropes, bridges, planks and branches, the participants, equipped with harnesses, climb, walk in balance, jump, leap into the void and cross various obstacles. It is the variety and difficulty of the obstacles that makes these courses fun and sporty!
And we can say that the creativity and imagination of the designers of tree climbing parks are limitless:
rope ladders to climb;
slacklines and vine bridges to cross;
beams, suspended logs and zigzag boards to cross;
barrels to squeeze through;
giant cobwebs to climb;
zip lines on pulleys and Tarzan ropes to soar into the void;
etc.
One thing is certain, adventure courses can be really physical and contribute to the development of balance, motor skills, coordination and even self-confidence. It is also a great way to share good times with family or friends.
Of course, the activity is secure: equipped with a harness, lanyards and carabiners, practitioners are constantly insured and cannot fall. However, there are safety rules to follow. We tell you about it a little further down. But first, let's look at the origin of adventure parks.
Who invented adventure parks?
The first zip lines were invented and installed in the Alps at the beginning of the 1980th century. Then, a few rope bridges and tightrope walkers were erected in the XNUMXs here and there.
The word "Accrobranche®" was used for the first time in the 1990s, to designate an activity in a supervised forest, consisting of moving from tree to tree. But beware, originally, this hobby was not practiced in an enclosed park, but in a natural and wild environment. No structure or platform is installed on the trees. The brand was registered by the precursor of this outdoor activity.
The first real adventure park equipped with semi-permanent structures was created in 1995 in Serre Chevalier, in the Hautes-Alpes. A retired soldier had the brilliant idea of ​​drawing inspiration from the commandos' routes to design a secure park, adapted and accessible to the general public. The success was immediate!
The concept was then taken up and developed in mountainous areas, particularly in ski resorts to support summer tourism. But the tree climbing phenomenon quickly crossed the mountains to spread throughout France. Because trees are everywhere! Avid for outdoor experiences, reconnection with nature and thrills, tree climbing practitioners are more and more numerous.
The terms Aventure Parc, Parc Aventure, Parcours Aventure or Monte aux Arbres then began to be used. But since the beginning, the word "Adventure tree climbing" has remained well anchored in people's minds and it is the one most used by the general public. On the side of the authorities, the activity was first officially called "Forest acrobatic park", to finally be called "Acrobatic course in height (PAH)".
In recent years, we have even witnessed the creation of treeless adventure parks, indoors or outdoors, made up of pylons and platforms connected by cables and obstacles. Even urban areas also have their routes! We are a long way from the first tree climbing in the wild in the heart of nature... And we also understand why the official name of the activity is now "High ropes course", without any reference to forests or trees.
Is tree climbing dangerous?
Safe courses of different levels
Tree climbing can be practiced by children, adolescents and adults. Generally, adventure parks offer different courses adapted to the level, age, size and weight of the participants. They are differentiated by color codes:
white or yellow for toddlers, from 3 or 4 years old: height is limited and parents can follow and help children from the ground;
green for everyone from 6 years old: easy routes;
blue for everyone from 6 or 8 years old: medium courses;
red for older children, teenagers and adults: difficult routes up to 10 meters high;
black for teenagers and adults: very difficult and physical courses.
We recommend that you start with an easy circuit to get you warmed up, before making things a little more difficult.
It should also be noted that all routes must be secured by means of collective protection such as nets, mattresses, railings, etc. Moreover, it is an activity in autonomy, but it must be practiced under the supervision of operators holding a state diploma.
Individual standard equipment
You can imagine that you are not going to launch yourself on zip lines more than 10 meters high without security systems! Participants are equipped with a harness connected to two lanyards and two pulleys. This is mandatory personal protective equipment (PPE), which must bear the "CE" marking. This material must be suitable for your size and in good condition.
In the 2000s, tree climbing facilities were developed, improved and designed for safety.
A revolutionary device has come to secure the adventure parks: the continuous lifeline and the fall arrest system " click it®". The idea is to allow "tree climbing" to progress throughout the course, while remaining insured from A to Z. How does it work? It's very simple and ingenious: practitioners are equipped with two carabiners which they use alternately to attach themselves to the lifeline. When you open one, the other locks automatically. Thus, there is always a carabiner hooked, while we attach the second to the next point. Smart, right?
Tree climbing parks offer a briefing at the start of the activity, with a little training and a test course, to learn how to use the equipment and know the safety rules. Follow them scrupulously to set off without risk! And even if you are a trail junkie and come back every day, every time you will have to follow the safety briefing.
Do adventure trails damage trees?
If you are environmentally conscious, you are certainly asking yourself this question. And the answer is… it all depends! Enough to ? Well, it all depends on the parks.
Although most rope course operators have understood that it is in their (economic) interest to preserve the trees, not all of them employ truly respectful systems. Trunks are often drilled and platform construction techniques are not always suitable.
Fortunately, many parks take steps to use trees without damaging them. At the house of Exterior Nature, we consider that nature is our greatest wealth. We have chosen to preserve, care for and respect the trees of our acrobatic courses at height, by following various measures:
Choosing the right trees: species, age, quality of rooting;
Ban the drilling of trunks and branches and replace it with structures made by compression;
Change the compression points every three years so as not to weaken the trees, hinder their growth and disrupt the circulation of the sap;
Prune the branches every year, to allow the trees to breathe;
Preserve the roots by limiting trampling areas to avoid soil compaction;
Maintain the park: regular verification of the installations and annual phytosanitary control.
Where to do tree climbing in France?
From now on, you can practice tree climbing almost everywhere, in town, in the countryside, by the sea and of course in the mountains. You will necessarily find a site near you, indoors or outdoors. That said, the most beautiful parks are necessarily located in wooded and tree-lined regions. If you are looking for a pleasant experience in the middle of nature, we advise you to aim for forests and woods.
Are you looking for a haven of freshness and an authentic natural setting for your tree climbing outing? And if you let yourself be tempted by a holiday or a weekend in the south of France? Discover Outdoor Nature, the largest adventure park in the Pyrénées-Orientales just 25 minutes from Perpignan. Nestled in lush greenery, along the river, our twelve tree climbing courses welcome you every weekend and during school holidays. Contact us!